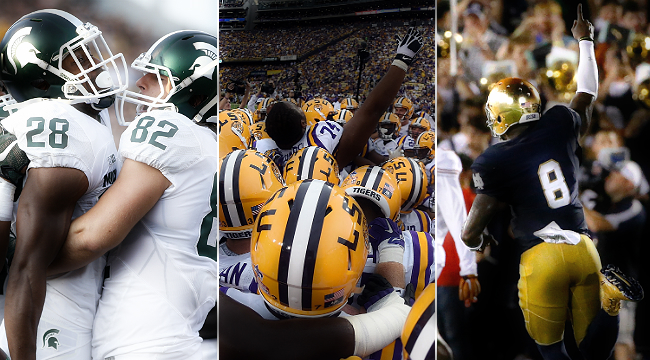 Is everybody all caught up on sleep from the weekend? Nope? Okay, great. Well, there's no sleep for the football fan. You're going to hear a lot about how "football started Thursday," but we all know that's not true, and that NFL fans are adorable and we should just pat them on the head for thinking their sport is the only sport in the world. College football is pretty great, too, and that's what we're here to talk about today.
Week 1 didn't have all that many surprises. Texas A&M seemed further along, especially defensively, than we probably all thought. Stanford fell flat against a perky Northwestern team. It doesn't matter who plays quarterback for Ohio State; that offense is going to go. And Penn State, well, we'll talk about the Nittany Lions another time.
This weekend brings with it a slate that leaves a lot to the imagination, but is still football on our TVs, and we wished for that for so long, we maybe need to appreciate it, even if we accidentally flipped on Army-UConn and can't remember our own address anymore.
Here's your full viewing guide for Week 2. (All times are EST, and we're skipping Friday this week but you can watch Utah-Utah State if you want. We probably will be doing that.)
The Early Slate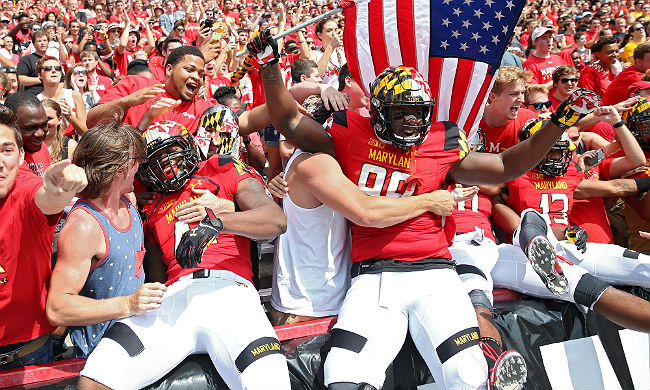 FRONT AND CENTER
Noon: Bowling Green at Maryland (-7.5) (Big Ten Network)
There's not a lot to love about the noon slate in Week 2, so let's dig deep a bit. Bowling Green did a pretty good job scoring against a solid Tennessee team at Neyland Stadium last week, so Maryland's on a minor upset watch here. The Falcons offense under Dino Babers is an awful lot of fun, especially now that Matt Johnson is back. And Maryland has some very nice pieces this season too. Could be a sneaky good game.
SECOND SCREEN SPECIAL
Noon: Houston at Louisville (-13) (ESPN3)
Your other option here is to keep tabs on Florida State against USF and see how Everett Golson is doing, but I get the sense that one won't be close after about 12:45 or so, so you'll have some time to flip around. It's worth at least checking out this Houston team under new head coach Tom Herman, plus Louisville freshman quarterback Lamar Jackson showed some really nice flashes against Auburn last week, and he could end up being a must-watch player before the season is done.
Dog Day Afternoon
FRONT AND CENTER
3:30 p.m.: Notre Dame (-12.5) at Virginia (ABC)
Despite the loss of Tarean Folston, Notre Dame seems stacked this year, and their first big test is against a Virginia team reeling from a loss to UCLA and freshman phenom Josh Rosen. While things could be a bit better now that the Cavs are back on the East Coast, the Irish should have more than enough on both sides of the ball to keep this thing well in hand.
SECOND SCREEN SPECIAL
4:00 p.m.: Toledo at Arkansas (-21) (SEC Network)
What, like you weren't going to watch the Razorbacks try to run it up and down the field against the Rockets? You'll be excused if you choose to watch Ohio State and the Buckeyes' quarterback brigade run up the score against Hawaii over on the Big Ten Network. I guess you could watch Georgia-Vanderbilt too if you want. Nick Chubb is really good at football.
Under The Lights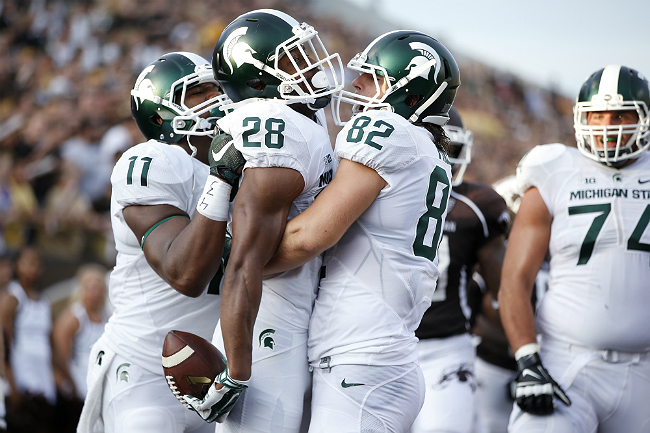 FRONT AND CENTER
6 p.m.: Oklahoma (-1.5) at Tennessee (ESPN)
The first big game of the weekend, you're seeing two teams that match up incredibly well in one of the more hyped games in Knoxville in quite some time. Tennessee fans are rightfully excited about this season, and a win over a premier team like the Sooners would be a big step (after a bunch of other big steps under Butch Jones) in the right direction. But that air-raid offense won't be easy to stop, especially after Bowling Green was able to put up a bunch of points on the Vols last week.
8 p.m.: Oregon at Michigan State (-3.5) (ABC)
This is your ribeye steak of the night. You saved your calories throughout the day so you could feast on this one, eat all the bread you want, get two giant sides (go for the lobster mac & cheese, you know you want it) and even get that molten chocolate cake for desert. Why the heck not? You deserve it. After last year's instant classic, things could get even more heated (and a lot more entertaining) in East Lansing.
SECOND SCREEN SPECIAL
7:30 p.m.: Kentucky at South Carolina (-8.5) (SEC Network)
Sure. It could be worse. At least we have Spurrier.
8 p.m.: Temple at Cincinnati (-7) (ESPNEWS)
One of the best games of the weekend overall, it's a shame this one isn't at noon so we can give it our full attention. But that's why we have multiple TVs, and remotes, and iPads, and computers, and bars to watch football in. Someone will put this game on for you, somewhere, and if they aren't they're not your friend or your favorite host/bartender. Can Temple slow down Gunner Kiel the same way the Owls knocked Christian Hackenberg to the deck in Week 1? Or will the former top recruit throw all over Temple and establish Cincinnati as the Group of Five team to beat outside of Boise State?
The Late Show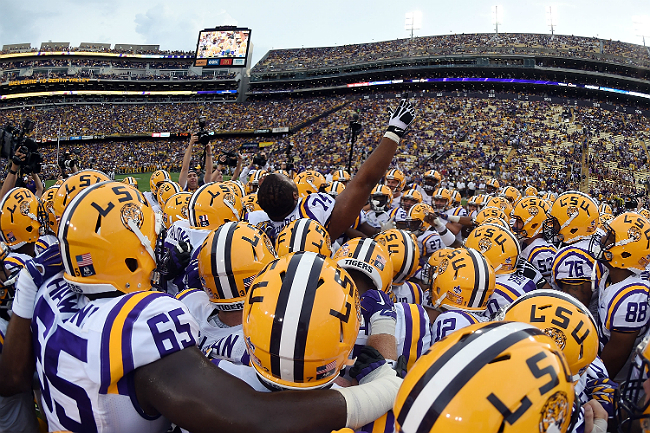 FRONT AND CENTER
9:15 p.m.: LSU (-5) at Mississippi State (ESPN)
The Tigers didn't even get to play their game last week due to a bunch of weather delays that turned into a weather cancellation, but at least LSU didn't have to drag their own field or make the players bring all the equipment in themselves. That wouldn't have been fun. We don't have a read on LSU's revamped offense, and neither do the Bulldogs, but that also means the Tigers didn't get a chance to try things out and shake the rust of the offseason off. Which could mean just about anything, but it's going to be worth watching no matter what.
SECOND SCREEN SPECIAL
10:15 p.m.: Boise State (-3) at BYU (ESPN2)
The other thing to monitor is how well Josh Rosen is playing against UNLV over CBS Sports Network (hey, we're fans already), but the second best game from a purely "competitive" standpoint is Broncos-Cougars. If Taysom Hill was playing, this would be a must-watch, but I'm just not sure Tanner Mangum, despite the Hail Mary and the awesome '80s cop -how name, can stop a balanced and talented Boise State team in its tracks.