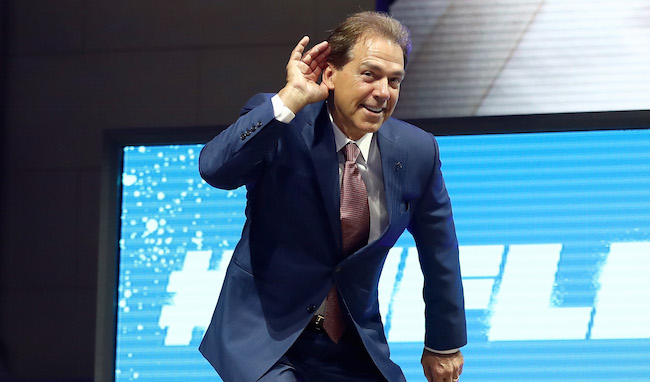 The college football season technically started last Saturday, but when the marquee game is either Oregon State-Colorado State or Stanford-Rice, it's hard to really get too amped up. This week, however, the season starts in earnest with a full slate of games that began Thursday night with some craziness between Ohio State and Indiana and will roll through Monday night with Tennessee-Georgia Tech.
In between, we have dozens of games to sort through and figure out what to watch. That's what I'm here to help with, giving you the best of the best in each time slot for Saturday's action. If you're checking in with us on Friday afternoon and trying to figure out what to watch tonight, may I suggest Navy at FAU (8 p.m. ET on ESPNU) for those that like the points, Colorado at Colorado State (8 p.m. ET on Pac-12 Network) for a fun rivalry game, and Boston College at Northern Illinois (9:30 p.m. ET on CBS Sports Network) for defense and dudes.
With that out of the way, let's get to Saturday, where we start at noon and roll through the late night with nearly a dozen games on this week's viewing guide (for Week 1 picks, you can go here). As always, remember to stay hydrated. It's a long day, so alternate a cup of water in between those adult beverages and be stocked up on snacks to avoid running out by the 8:00 p.m. kickoffs.
Wyoming at Iowa, 12:00 p.m. ET, Big Ten Network
Who doesn't love an 11:00 a.m. local kick? Wyoming QB Josh Allen is getting No. 1 overall pick in the 2018 NFL Draft buzz for whatever reason, and this might be your best chance to catch him this season aside from some late-night weirdness in the Mountain West. The last time Allen went into a Big Ten stadium, he and the Cowboys hung with Nebraska for three quarters before imploding with five interceptions in the fourth quarter. Wyoming's one of my picks this week at +12.5 (now down to +11.5) so here's to hoping this trip to Big Ten country goes a bit smoother.

Maryland at Texas, 12:00 p.m. ET, FS1
At this point, I've come to assume most college football fans are working with some kind of second screen setup. Wyoming-Iowa figures to be competitive, but probably not super high-scoring (which is my preference), but I know that people generally like offense. So, may I present you the first game of the Tom Herman era in Texas. He'll be looking to make a statement in this one and I'd expect him to run it up on the poor Terps (who can score a little bit too).
NC State vs. South Carolina (in Charlotte), 3:00 p.m. ET, ESPN
There's not a lot kicking off between noon and 3 this week (aside from a weird Cal-UNC game on the ACC Network at 12:20) but at three we have what could be a sneaky interesting game in Charlotte. It's Will Muschamp's second season and he's got some young offensive talent with QB Jake Bentley and WR Deebo Samuel, but his track record isn't great with developing an offense. NC State has gotten some sleeper talk in the ACC (and even CFP picture) but for many who have believed in Wolfpack hype before, we'll want to see it first. They can prove a little against a South Carolina team that plays hard under 'Champ, but isn't necessarily very good.
Temple at Notre Dame, 3:30 p.m. ET, NBC
The reigning AAC champs roll into South Bend on Saturday afternoon as the Irish look to begin their bounce back season from the 4-8 disaster a year ago. Temple's no slouch, although Jahad Thomas leaving hurts, and this won't be an easy win for Notre Dame. Of all the 3:30 games I think this will be the most entertaining to watch.

Michigan vs. Florida (in Arlington), 3:30 p.m. ET, ABC
If you've paid no attention to what's happened in the past month-plus, this game looks great on paper. Blue-blood programs, squaring off. It's awesome! Right? Well, Florida has 10 players suspended, including their best receiver and running back. The Gators are also starting a freshman QB because their grad transfer from Notre Dame couldn't win the starting job (again). Michigan lost its three top receivers and while there's talent on the roster, it's very inexperienced. This seems like it could go one of two ways: Competitive rock fight or Michigan finds a passing attack and lays the smackdown like that 41-7 Citrus Bowl win two years ago against Florida.
Troy at Boise State, 3:45 p.m. ET, ESPNU
You know what'll be way more fun than Michigan-Florida? Troy-Boise State. Troy's good, Boise State isn't as good as those Boise teams you remember, so this could be a really fun, competitive game. Both teams can score, both will give up points, and its our first look at the Smurf Turf this season.
Western Michigan at USC, 5:15 p.m. ET, Pac-12 Network
Let's say those 3:30 games are duds in the second half, well flip over to the Pac-12 Network for the Sam Darnold show. Western Michigan is an unknown in the post-P.J. Fleck era, but they still have some good players. The Trojans are a Pac-12 favorite again and can prove why here.
Appalachian State at Georgia, 6:15 p.m. ET, ESPN
Remember last year when the 'Eers damn near rolled into Neyland to steal the opener from the Vols? Well, Georgia's got to deal with that this year Between the Hedges. I've got App State +14.5 in this one on picks and expect this to be a close slugfest. Georgia best not be looking ahead to Notre Dame or they could get caught.

Louisville vs. Purdue (in Indianapolis), 7:30 p.m. ET, Fox
Yes, I put a Purdue game on here. There are two reasons for that. One, I want to see how Jeff Brohm does because I think he's a great coach. Two, do you remember what early season Lamar Jackson was like last season? The Heisman Trophy winner is back, has fresh legs, and is going up against a bad Purdue defense. That'll be fun. I think the Boilermakers will score some to make it interesting at least for a half, and we'll get some more video game stats from Jackson.
Alabama vs. Florida State (in Atlanta), 8:00 p.m. ET, ABC
This is the game of the weekend between No. 1 and No. 3. You're going to watch it because it matters, but I'm not sure it'll be the best game of the day. Maybe Alabama's offense will be actually fun this year. Maybe Florida State can get through the Tide's defense. However, I fear this could be an old school Alabama whoopin' and that's just a gut feeling based on years of facts.
Montana State at Washington State, 10:30 p.m. ET, FS1
Mike Leach might put up 80. That's the reason to tune in here.
Western Carolina at Hawaii, 12:00 a.m ET, Mountain West Conference Streaming
The only way to cool down after four hours of a high-stakes SEC-ACC battle with national title implications is to flip over to the Mountain West Conference website and be welcomed by this face.
It's going to be a long day, but a great day. As always, some random game no one expected to be good will manage to steal the show, so always be on the lookout and be ready to audible to flip the main screen off Bama-FSU and over to SEC Network when Georgia Southern's entering the fourth quarter up a field goal at Auburn.