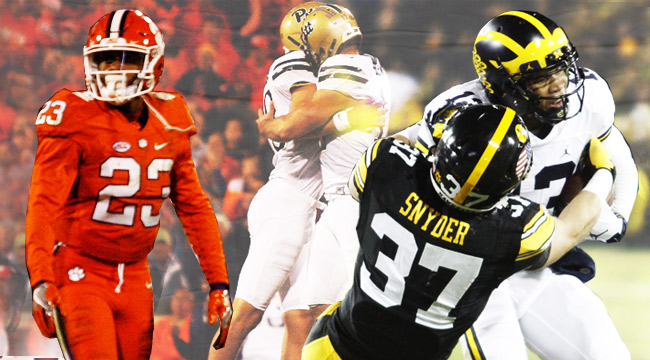 Well that was certainly a shock, wasn't it? An upstart, mean and nasty contender won the votes that really counted, while the kinder, smarter one we all expected to win goes home empty handed and is forced to grapple with who she really is.
I'm talking, of course, of 1999's teen sensation She's All That, starring every actor you could name from the '90s.
Rachel Leigh Cook and Freddie Prinze Jr. starred in the film that strove to remind you that appearances can be deceiving, and you'll never really know what's inside someone until you take the time to get to know them. But you've got to go about that respectfully and honestly because trying to change who they are will only ever backfire. Like Michigan being unable to accept Iowa's visiting locker room and going out of their way to change it:
Perhaps if you'd spent your time instead finding out who the Hawkeyes really were instead of dressing them up in different clothes, Michigan, you wouldn't be sitting here today with your first loss of the season.
Or take Clemson, who also took their first loss of the year thanks to a field goal converted by a kicker with the last name "Blewitt." Name alone does not make a man, Tigers.
Finally there's this last weekend as a whole, which, if you'd read our viewing guide, might have suggested this would be a fine weekend to get out of town or maybe go camping. But shame on you, and shame on all of us. Just when we think we know what to expect, the world has a way of surprising us all.
So let's shake these Ls off and start fresh, America. There's still plenty for everyone to fight for, because while it can seem like they're in control everywhere you look, Alabama ain't crowned yet. There's work to be done for us all.
UNC and Texas A&M took bad losses and dropped from the rankings this week, while Virginia Tech was lucky to stay in after their own bad loss. West Virginia is back in ahead of their big conference showdown against a resurgent Oklahoma, but it may be too late for the Big 12 to crash the playoff party.
But hey, at least the Big Ten is shaking out exactly as we all suspected, right? Let's find out, these are your POWER RANKINGS!
(Opening Credits)
1. Alabama (10-0)
Last week: 2
Last game: Beat Mississippi State, 51-3
Next up: Saturday vs. Chattanooga
Well, I guess that's what we get for doubting you, Alabama. WE JUST WANTED TO SPICE THINGS UP A LITTLE.
In about the only constant reminder that the Earth will spin, always and forever, Alabama clinched the SEC West title thanks to Georgia's win over Auburn. With that, the Iron Bowl has lost a bit more luster, as even if Auburn somehow pulls the impossible, Alabama will still be a win-and-they're-in Playoff team as they enter the SEC Championship.
2. Ohio State (9-1)
Last week: 4
Last game: Beat Maryland, 62-3
Next up: Saturday at Michigan State
On to the exciting stuff! Thanks to some big upsets, the Buckeyes rise back into the No. 2 spot in the Power Rankings. After two consecutive 62-3 wins, it's hard to argue that they're not playing the best they have all season, especially when only one of those two victories came against Maryland.
The catch is, even if they win out, they still need Penn State to lose to make the Big Ten Championship. In oddly fascinating fashion, Michigan's loss actually hurt the Buckeyes, who, if they manage to beat the Wolverines and win out, will lose the head-to-head tiebreaker against Penn State if the Nittany Lions win out as well.
Speaking of catches, at least Maryland can hang their hat on superior cuisine.
3. Michigan (9-1)
Last week: 1
Last game: Lost to Iowa, 14-13
Next up: Saturday vs. Indiana
Michigan had the nation's No. 1 defense going into the game, and to be fair, they did keep Iowa to only 14 points! And two of those came on a safety, so, you know, that's not even your fault, defense.
Michigan didn't just lose the game, however, they also lost starting quarterback Wilton Speight to a supposed broken collarbone, possibly for the season, though Harbaugh is being decidedly closed-lipped about that.
The good news for Michigan is that they still control their own destiny. Win out, and they take the Big Ten East and get to the conference championship. The bad news is that winning out means beating those Buckeyes right above them.
4. Clemson (9-1)
Last week: 3
Last game: Lost to Pitt, 43-42
Next up: Saturday at Wake Forest
And here we have another loss on a last-second field goal! Thanks to the strong leg of the poorly-named-for-a-kicker Chris Blewitt, Pitt was able to upset Clemson on the road!
Like Michigan, however, this loss doesn't really change too much in terms of the Playoff equations. If every Playoff-caliber team except for 'Bama loses silently in the woods, does anyone actually walk out of the woods with a loss and somehow manage to salvage this analogy?
Unlike, say, Ohio State, Clemson still has a clear path to the ACC Championship. Win out, and they're ACC Champions and almost certainly a Playoff lock.
5. Louisville (9-1)
Last week: 6
Last game: Beat Wake Forest, 44-12
Next up: Thursday at Houston
"What's that? Clemson lost?!"
This one was a deceptive win for the Cardinals, who were actually down 12-3 at halftime. Luckily, when you've got Lamar Jackson, all you really need is one half of decent football to take the whole game. Unfortunately for them, they still need Clemson to lose again if they want to make the ACC Championship.
If they don't, though, Louisville's still got an outside chance of getting into the playoff. One game that will help a whole lot would be a win against Houston on Thursday.
6. Penn State (8-2)
Last week: 9
Last game: Beat Indiana, 45-31
Next up: Saturday at Rutgers
Don't look now, but Penn State also has a firm hand on the wheel for the Big East championship game. Luckily, they've got Rutgers up next, a team that surely will pose no trouble in this year of incredibly unlikely upsets.
While they need to win out and have Ohio State beat Michigan, that is certainly not a bad hand of cards to have this late in the season.

7. Wisconsin (8-2)
Last week: 8
Last game: Beat Illinois, 48-3
Next up: Saturday at Purdue
Thanks to Illinois quarterbacks giving out interceptions like leftover Halloween candy, Wisconsin rolled easily to continue their march to the Big Ten championship game.
Unlike the East, the Badgers' division is pretty easy to scheme out — win out and they're in. With games left against Purdue and Minnesota, only a Michigan-esque lack of focus can doom them now.
8. Washington (9-1)
Last week: 5
Last game: Lost to USC, 26-13
Next up: Saturday vs. Arizona State
The final Top 5 upset of the day was also the least surprising. Still an upset, sure, but the USC that beat Washington on Saturday is not the USC that began the season 1-3. Unlike Clemson and Pitt, however, this loss might be enough to sink the Huskies' chance at a Playoff berth, even if they do win out and win the Pac-12 championship. Their schedule's pretty bad; out of their previous nine wins only the win against Utah stands up now that Stanford has collapsed.
Take heart, Adoree' Jackson, you may have lost this battle in embarrassing fashion, but your Trojans won the war:
9. Oklahoma (8-2)
Last week: 10
Last game: Beat Baylor, 45-24
Next up: Saturday at West Virginia
Oklahoma is another example of the importance of losing early if you must lose at all. While two losses is probably still enough to keep them out of the Playoff conversation, it won't be if Michigan, Clemson, Ohio State, or Louisville all lose another game. And with Michigan and Ohio State still to play, it's certain one of them will. In one of the year's biggest surprises, it may be Penn State that actually keeps the Big 12 out of the College Football Playoff!
Before we get ahead of ourselves though, Oklahoma still has to get past a very tough West Virginia squad, though we here at the Power Rankings aren't quite as impressed with the Mountaineers as everyone else is. Show us what you got, DeDe Westbrook!
ENHANCE!
10. Colorado (8-2)
Last week: 11
Last game: Beat Arizona, 49-24
Next up: Saturday vs. Washington State
OK, OK, I know I said we'd get the Mannequin Challenge out of the way last week, but Colorado upped the bar by pulling it off with a 1,300 pound animal:
"Yeah, but what about the football gam-"
Nah, you didn't miss much there, go watch Ralphie stand perfectly still another dozen times. SHE'S SO GOOD.
11. Western Michigan (10-0)
Last week: 12
Last game: Beat Kent State, 37-21
Next up: Saturday vs. Buffalo
Look, I'm as big a fan of the underdogs as anyone. So I'd really, really like to put undefeated Western Michigan somewhere near the top five. But when the best win of your season is maybe Northwestern, it's hard to justify that.
But I'll be sure to get up early and see what happens when College GameDay decides to swing through this weekend, so let's see what you've got, Kalamazoo.
12. Utah (8-2)
Last week: 16
Last game: Beat Arizona State, 49-26
Next up: Saturday vs. Oregon
Utah crushed the Sun Devils on the back of 11 sacks and 22 tackles for a loss.
That's some offensive line film you just throw in the trash, Arizona State.
13. USC (7-3)
Last week: 24
Last game: Beat Washington, 26-13
Next up: Saturday at UCLA
USC is technically still alive for a berth in the Pac-12 championship, but they need more than a few breaks to go their way. Best to focus on closing your season strong against rivals UCLA and Notre Dame.
14. Florida (7-2)
Last week: 18
Last game: Beat South Carolina, 20-7
Next up: Saturday at LSU
Coming out of the wreckage that is the SEC East this year appears to be Florida, but they've got quite the wrinkle. See, while a win against LSU will clinch the division, this is a game that should be in Gainesville. Rescheduled due to Hurricane Matthew, it's both a blessing they're managing to play this game, as it can easily clear up the standings, but a curse in the fact that the Gators now have to travel to Baton Rouge.
15. Nebraska (8-2)
Last week: 15
Last game: Beat Minnesota, 24-17
Next up: Saturday vs. Maryland
One week after being carried off the field on a stretcher, Nebraska quarterback Tommy Armstrong was carried off the field by his teammates after scoring the go-ahead score:
This time it appears to be a hamstring injury, which ironically was both far less serious looking than last week's hit but yet also might actually keep him out longer.
As far as Nebraska's playoff hopes, they lose the tiebreaker in the Big Ten West to Wisconsin due to head to head, so they need the Badgers to slip up once more. Until then, they're playing out the string on a very successful season.
16. Oklahoma State (8-2)
Last week: 17
Last game: Beat Texas Tech, 45-44
Next up: Saturday at TCU
This game was a wild one, with a winner decided only because of a missed extra point:
Leave it to the Big 12 to settle a game not by the ability of a defense to make a stop, but by an offense's ability to make a layup.
17. Washington State (8-2)
Last week: 23
Last game: Beat Cal, 56-21
Next up: Saturday at Colorado
Well, so much about that Apple Cup having massive implications. Thanks to Washington's loss to USC, it now merely has very, very, very large implications, along with all the requisite state pride.
Assuming Washington wins against Arizona State, the Apple Cup winner will be crowned Pac-12 North champ and earn a spot in the conference championship game at the Rose Bowl. Unfortunately, the Cup will be on Black Friday at 12:30, p.m. causing tough decisions to be made among students at both schools:
Come on Taylor, it's the Apple Cup! PICK THE APPLE CUP!
18. Auburn (7-3)
Last week: 7
Last game: Lost to Georgia, 13-7
Next up: Saturday vs. Alabama A&M
Guess we were talking about you last week, Auburn, when we said this about Florida: "To be fair, sometimes we like pushing certain SEC teams up into the top-10 just to see how far they fall when they inevitably choke."
Even worse, Georgia beat you where it really counts in the SEC:
19. Virginia Tech (7-3)
Last week: 13
Last game: Lost to Georgia Tech, 30-20
Next up: Saturday at Notre Dame
WHOOPS.
20. LSU (6-3)
Last week: 21
Last game: Beat Arkansas, 38-10
Next up: Saturday vs. Florida
SEC teams: "Boy, sure am glad Leonard Fournette is leaving after this season!"
LSU: "Have you met sophomore Derrius Guice?"
The Tigers' running back ran for 252 yards against Arkansas, and LSU now has a great chance to steal what should have been a road game against rival Florida at home.
21. Boise State (9-1)
Last week: Unranked
Last game: Beat Hawaii, 52-16
Next up: Friday vs. UNLV
Boise State beat Hawaii's butt so bad they couldn't sit down. Literally:
22. Houston (8-2)
Last week: 25
Last game: Beat Tulane, 30-18
Next up: Thursday vs. Louisville
Oh, what could have been. WHAT COULD HAVE BEEN, HOUSTON!
This upcoming game against Louisville was supposed to be your official statement game, your "We're here, everybody, and we're the best team in Texas!" game. Two losses later, and are you even sure you're ready to face Lamar Jackson? Because he's definitely ready for you.

23. Florida State (7-3)
Last week: 22
Last game: Beat Boston College, 45-7
Next up: Saturday at Syracuse
Enjoy it while you can, Seminole fans, three games left to watch this guy:
With FSU expected to dominate Syracuse, the most interesting reason to watch will be to see how many runs it takes Cook to reach 20 yards, breaking FSU great Warrick Dunn's school career rushing record.
And yes, you dropped despite the win, we know. Try not letting the worst offense in the ACC score a touchdown next time.
(Ed. Note: Sheesh, that's harsh.)
24. West Virginia (8-1)
Last week: Unranked
Last game: Beat Texas, 24-20
Next up: Saturday vs. Oklahoma
Welcome back, West Virginia! Here's hoping you treat this privilege with a little more respect this time, and don't immediately blow it against Oklahoma on Saturday.
25. San Diego State (9-1)
Last week: Unranked
Last game: Beat Nevada, 46-16
Next up: Saturday at Wyoming
Yup, that's pretty much how it went. Donnel Pumphrey ran for 198 yards and a touchdown, passing DeAngelo Williams for fourth place all-time in FBS rushing leaders.
Next Five: USF, Texas A&M, Virginia Tech, Pitt and unexpected surprises.
Let this weekend of unanticipated chaos remind us all, folks, you can make an adventure out of anything. Approach the world with wide eyes and open arms, and do your best every day to make it a good one for not just yourself, but everyone else too.
(End Credits)