Sports in America are frequently becoming less and less patient with regards to coaches. Sometimes, this is justified – like when a coach comes in and it's obvious they're overwhelmed by a job and need to be axed immediately or if they get caught giving a recruit bars of gold – but for the most part, this will more often than not work to the detriment of your program.
Basically, schools need to give coaches a chance for at least four years. In college sports terms, that's the length of one recruiting class. Let a coach establish themselves, get "their guys" into the program (more on this in a sec), develop them, and implement the system they want to play before passing any sweeping judgement. It's hard to do this, I know – ask a Penn State fan what they thought of James Franklin a month ago compared to now, or ask a Texas fan what they think of Charlie Strong – but this is the best thing for a program.
The most underrated aspect of all of this is the "their guys" thing. College football fans will point to, say, the success that Urban Meyer and Jim Harbaugh had during their first years at Ohio State and Michigan as proof that this doesn't matter as much as you'd think. That is wrong. Every coach walks into a different circumstance and sometimes they need some time to get going.
This happens by letting them go out and build the program in their image. Some coaches want to run a spread system on offense but their personnel is more suited for a power running game. Some want to run a blitz-happy defense but the players they have aren't especially great at pressuring quarterbacks.
So instead, coaches have to try and adapt to fit what they have. Sometimes this works out really well. Sometimes you have the first two and a half years of Franklin in Happy Valley (although there were a few other factors impacting that team) or Strong's tenure in Austin.
But let's look at Strong as an example: I think he is a good football coach. I think he was the right dude for the Texas job and I think that if he's given enough time he's going to have a really, really good football team on his hands. We're even seeing him get dudes who are super talented, like Shane Buechele and Malik Jefferson (hell, just look at how few times "Senior" appears on this team) into the program. Talent brings in talent, which helps your team win once said talent is in your program, and Strong is working to get the Longhorns back to being nationally prominent.
And yet his hot seat is scorching right now. This is absurd! He's in his third season, and the team has been better this year assuming they don't crash and burn to end the season, but some Texas fans have been adamant that he's not the guy.
Let coaches do their job without worrying about whether they deserve to stick around for at least four years. Again, some circumstances will pop up that give teams a reason to lose their jobs, but for the most part, be patient. More often than not, it will work out.
Anyway, let's watch some football.
The Early Slate
FRONT AND CENTER
Noon: Baylor vs. Oklahoma, ABC/ESPN2
Noon: West Virginia vs. Texas, FS1
So there are really four teams that have a shot to win the Big XII. Three of them play in this block and none of them are Texas (we'll get to the fourth team a little later).
Oklahoma is in the driver's seat if it's able to win out. When the initial College Football Playoff poll came out, I was kind of shocked to see the Sooners so high – they were No. 14, currently moved up to No. 11 – and I have this gut feeling that if chaos happens, this team is making the Playoff. This is only true, though, if Bob Stoops' team wins out, and Baylor will make that a rather difficult task. The Bears would need a little help to win the conference, as Oklahoma would have to lose twice while West Virginia and Oklahoma State have to lose once.
On that note, the Mountaineers have a really, really dangerous game against Texas in Austin. The Longhorns are starting to pick up some momentum after wins against Baylor and Texas Tech, while West Virginia's last two games have been a loss to Oklahoma State and a win over Kansas. Look for the Mountaineer defense to try and confuse Shane Buechele, and look for that to possibly not matter, because D'Onta Foreman is maybe the best running back in America right now.
SECOND SCREEN SPECIAL
Noon: Mississippi State vs. Alabama, ESPN
Shout out to Mississippi State for making me wrong last week. I thought Texas A&M would raise their game knowing that they had a Playoff spot in their grasp, but then Nick Fitzgerald decided to blow that all up. This week, the Bulldogs have to go to Alabama and play the Crimson Tide. It'd be a bit of a surprise if Nick Saban's team had a letdown, because Saban doesn't do letdowns, but hey, anything's possible.
Dog Day Afternoon
FRONT AND CENTER
Auburn vs. Georgia, CBS
Appalachian State vs. Troy, ESPN3
The mid-day slate isn't great, so you might as well watch Auburn, which I still cannot fully comprehend because I watched the Tigers' offense against Clemson. Fast forward a few months and the defense is stout while the offense has looked awesome behind one of the nation's nastiest offensive lines. Georgia isn't especially good right now, and Auburn should take care of business, but hey, at least the Bulldogs beat Kentucky last week. Plus it could always be worse (they could be Tennessee).
If you want to watch an actual good game, throw on Appalachian State against Troy. Both teams are undefeated in the Sun Belt, both are in the top-30 of S&P+ (the Mountaineers are 26th, the Trojans are 28th), and both teams are very capable of ending up in a decent bowl against a Power 5 team and kicking the crap out of them.
By S&P+, Appalachian State's a more defensive-oriented team (53 in S&P+ offense, 16 in S&P+ defense) while Troy is more balanced (38 and 33 in each of the categories, respectively). The matchup to watch is the Trojans' passing game, namely as quarterback Brandon Silvers tries to find WRs Emanuel Thompson and Deondre Douglas against a good Mountaineer secondary led by ballhawking freshman corner Clifton Duck.
SECOND SCREEN SPECIAL
3:30 p.m.: Texas Tech vs. Oklahoma State, FS1
4:00 p.m.: Stanford vs. Oregon, Pac-12 Network
The fourth team with a shot at winning the Big XII is Oklahoma State, a solid football team that has been a solid football team ever since that year where Brandon Weeden dragged them to 12 wins. Their schedule is really, really tricky – Texas Tech, at TCU, at Oklahoma – but if they can get through unscathed, the Pokes would win the conference.
Remember when Stanford vs. Oregon was one of college football's games of the year? Anyway, the Cardinal have somewhat gotten their season back on track even if they're not winning the Pac-12 North, whereas the Ducks are 3-6 and may need a shake up at the end of the season. Whether that means canning Mark Helfrich or letting go of Brady Hoke as defensive coordinator, this team needs something. (I know I talked about giving coaches time earlier, but Brady Hoke just isn't good.)
Under the Lights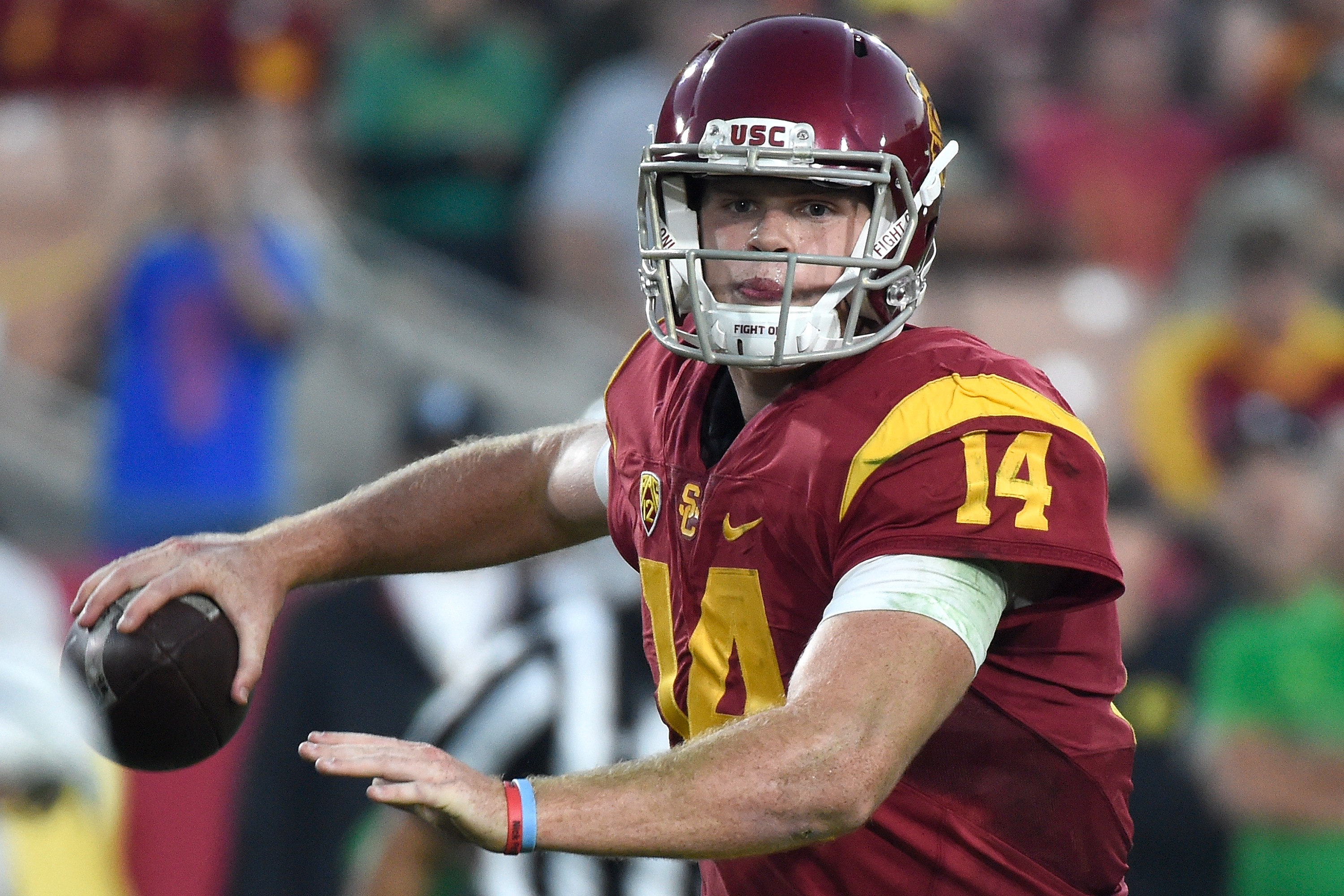 FRONT AND CENTER
7:30 p.m.: USC vs. Washington, Fox
I cannot watch this game – Brand New has a concert and I'd rather saw my arm off than miss that – but I highly recommend you watch the heck out of this. Washington rules, as you've read in here and elsewhere about a zillion times this year. USC is super talented and doesn't look like the team that went 1-3 to start the year (they'd probably still lose to Alabama if they played again, but it would be closer than 52-3).
So much of this flip switching stems from the fact that Sam Darnold is awesome. College football has so many really good freshman and sophomore quarterbacks, but few have been as impressive as Darnold, who is completing 68 percent of his passes and has 20 touchdowns to four interceptions on the year. His opposing signal caller is Jake Browning, who remains awesome under all circumstances, so this will be the best quarterback matchup in the sport since Louisville and Clemson played. Oh, and JuJu Smith-Schuster is going up against the Huskies secondary, which will be so so so so fun.
If this game wasn't in Washington, I'd be really tempted to pick USC. It's not, so I think the Huskies will win, but this has the potential to be a war.
SECOND SCREEN SPECIAL
7:00 p.m.: LSU vs. Arkansas, ESPN
8:00 p.m.: Michigan vs. Iowa, ABC
Anyone else think Ed Orgeron is probably going to be LSU's next coach? Beating Alabama probably would have gotten him that gig regardless, but as long as he wins out – which could be tough – it sounds like the job is his to lose . Anyway, after a hard-fought game in which you lose, the last thing you want is to get punched in the mouth by a team that believes in Bert Ball. The Tigers are talented enough that they should be able to survive a tricky road game against a good team, but this has the potential to be a gross, 21-20 game late in the fourth quarter.
Michigan will almost certainly beat Iowa. I saw the Hawkeyes in person last week and it's almost scary how stuck in 1996 this team is. Their offense should be "give the ball to Akrum Wadley in space all the time." Instead, their offense is, uh, not that:
Yeah, Jim Harbaugh's team is gonna roll.
The Late Show
FRONT AND CENTER
10:30 p.m.: San Diego State vs. Nevada, CBS Sports Network
Have you spent time watching Donnel Pumphrey yet? No? What the hell?
I've gushed over him before but please please please spend your Saturday night watching this 5-foot-9, 180 pound monster just carve up Nevada. The Aztecs are really good for reasons other than their star running back – their defense (especially rushing defense, which is third in S&P+) is nasty and Christian Chapman has been a very solid quarterback – but Pumphrey is the engine that makes this machine go. He's a gem and he only has five more games before some NFL team drafts him way too late and realizes they found a dude with star potential. He could end up with the second-most rushing yards ever in FBS history. Appreciate him.
SECOND SCREEN SPECIAL
10:00 p.m.: Colorado vs. Arizona, FS1
10:30 p.m.: Cal vs. Washington State, ESPN
Hey, watch Colorado. This year has been cool because three schools that used to be huge deals that fell on some hard times – Colorado, Nebraska, and Penn State – come back to being nationally prominent. The Buffs have been extra fun since they sort of came out of nowhere (in fairness, so did the Nittany Lions) to become a top-15 program. Mike MacIntyre is proof that if you hire a coach with the hopes that they will overhaul your program, you need to give them time. *Gives Texas a side eye so intense that my eyeballs actually roll sideways into my skull*
Cal vs. Wazzu is going to be certifiably insane. The purest version of dumb, pass-happy football comes when these two teams play. We may see a team score 70 points. It's going to be gorgeous art.