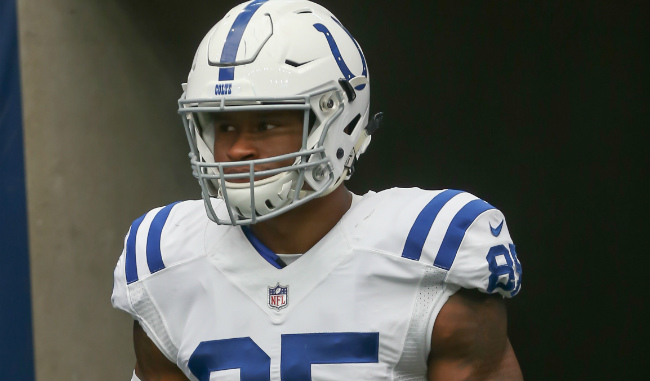 Another scary medical incident punctuated a prime time NFL game on Thursday night. Indianapolis Colts tight end Brandon Williams had to be carted off the field after a hit left him motionless on the Lucas Oil Field surface during Thursday Night Football.
The incident occurred early in the second quarter with the Colts leading, 7-0. Deontrex Brown engages Williams near the line of scrimmage in a play that actually looks routine. The two grab each other's shoulder pads and touch helmets, but Williams does not appear to have suffered a massive blow to the head that so often begins these scary moments where a player is carted off the field.
Here's video that shows the impact on replay.

Williams falls on his back and does not move, and Colts medical personel rushed to the field to tend to him. Williams is eventually removed from the playing surface with the help of a cart.
Local media reported that Williams had movement in his limbs and that it was a head, not a neck, injury.
This is a significant sigh of relief, because as Deadspin points out, Williams has a history of spinal injuries dating back to his time in college. While under Chip Kelly at Oregon, Williams was told he had a spinal injury and that his football career would have to end.
Then in the spring game, he stayed on the turf after a lineman fell on his head. When he finally did stand, his knees buckled and he had to be steadied.

Oregon team doctor Greg Skaggs said concerns were raised within the medical staff. Williams was sent to a neck expert, and then to another consultant. Over the course of the summer, Skaggs said opinions were gathered from other doctors in the field, and the conclusion was he had spinal stenosis, a narrowing of the spinal column.
Williams did play football, though, but the curious nature of his injury on Thursday is sure to put doubt on that career now.