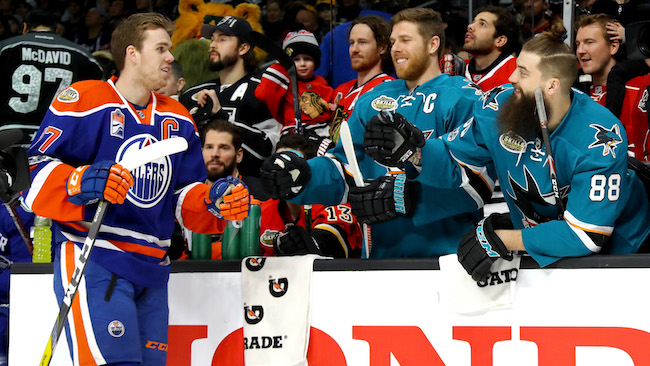 Connor McDavid might not be the most famous player in the NHL just yet, but the 20-year-old does happen to be the reigning Hart Trophy winner as the league's most valuable player. In just his second season, McDavid accumulated 100 points and 70 assists to lead the league in both categories, and as you may expect, he is seen as the biggest rising star in a sport that could certainly use that kind of crossover appeal.
To that end, McDavid is now featured in a series of ads for CCM Hockey, and he is joined by San Jose Sharks defenseman and reigning Norris Trophy winner Brent Burns for the festivities. Burns is something of a polar opposite to McDavid, given his appearance, and even with knowledge that he is a firmly entrenched star, the 32-year-old took a very different path to get where he is today.
That dissonance works quite well in the commercials, as the two players battle head-to-head in carnival games. First, McDavid and Burns face off in trying to knock milk bottles off a perch with their shots.
Then, they take part in a very similar competition including the breaking of plates with more of a power shooting approach.
Finally, McDavid takes his turn in attempting to knock Burns into a dunk tank in the third edition.
In the end, this is the type of ad campaign that could really pop and increase the visibility of both players and also become a big-time hit for CCM given the fame and notoriety of McDavid. Even if it doesn't, the ads are fun, and you can't go wrong with a 20-year-old who happens to be absolutely incredible on the ice.