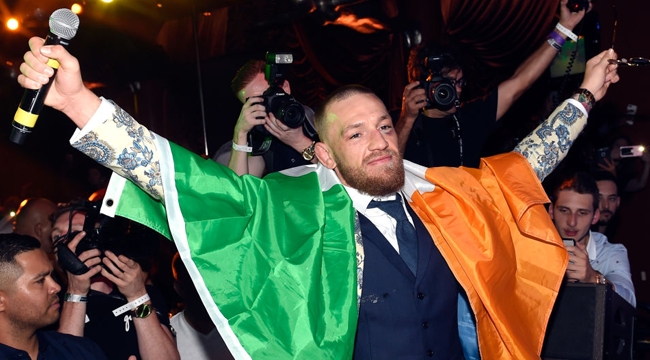 Earlier Thursday, a solemn Dana White said: "the police are going to take care of Conor," and now they have. According to reports by NBC 4, senior law-enforcement officials have confirmed that Conor McGregor is in police custody after attacking a bus at the UFC 223 media day. Their sources are saying McGregor is being charged with assault, and it looks like he won't be cage-side at UFC 223, watching Khabib Nurmagomedov and Max Holloway vie for his former lightweight belt.
In addition to the NBC reports, TMZ is saying McGregor is being charged with two counts of misdemeanor assault and a single count of felony criminal mischief. TMZ says the assault charges come from the flying glass that cut UFC lightweight Michael Chiesa's face and took him off Saturday's card and for McGregor punching and unknown party multiple times in the face. UFC fighter Ray Borg was also hospitalized with glass in his eyes, so it's unknown if McGregor's charges will continue to pile up.

On top of the crimes, McGregor is likely looking at multiple lawsuits from fighters affected by his rampage. It seems like the entire UFC is disappointed by McGregor's actions, and once it goes from him ruining his own press conference to endangering and affecting the careers of others, it reaches a level that's utterly unacceptable.
(Via NBC New York/TMZ)