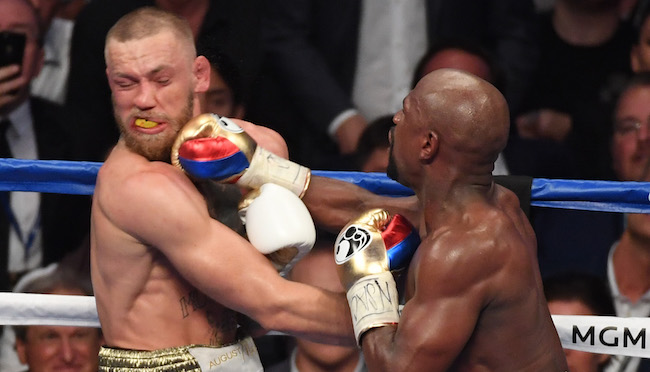 Conor McGregor vs. Floyd Mayweather 2?
Floyd better hope not, because at a special 'Evening With Conor McGregor' Q&A event with fans in Scotland, Conor declared he'd clean the 50-0 boxing legend's clock in a rematch. As far as McGregor is concerned, a second fight between the two isn't out of the question based on how fast Mayweather burns through cash and how much money both fighters made in their first bout back in August.
These revelations came via Irish journalist Peter Carroll, who has been live tweeting the event in progress.
Fortunately, that's all hypothetical bluster at this point. As far as McGregor's next real opponent as he returns to MMA, it sounds like he hasn't decided yet, and will be waiting until after UFC 216 before committing to anything.
Tony Ferguson and Kevin Lee are fighting for the UFC interim lightweight title at UFC 216 on October 7th, and there's a lot of pressure on McGregor to face the winner and unify his belt. But as it stands, he seems more interested in wrapping up his trilogy of fights with Nate Diaz. A solid performance from Ferguson or Lee coupled with the right kind of call out could capture his attention, though.

Other interesting updates touch on the possibility of McGregor making a quick turnaround and fighting on the UFC's December 30th card and the possibility of a future match up with Georges St-Pierre was also addressed.