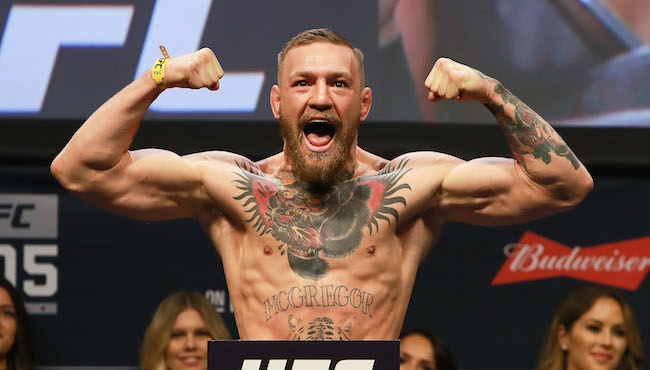 Not many people are giving Conor McGregor much of a chance in his huge boxing superfight against Floyd Mayweather on August 26th. Fortunately, he has the total confidence of one very important person: himself. McGregor has been his own biggest believer through the entire negotiations period of this match up, essentially forcing the unlikely fight into existence with his tenacity and perseverance. If he could pull that off, what's so hard about knocking Floyd out?
As a little reminder of that, he's added some art to his 'secret dojo' where his team has been preparing for the boxing showdown.
Part of the secret behind Conor McGregor's success is just that: The Secret, the woo-woo self help book and DVD from Rhonda Byrne that espouses the Law of Attraction: basically that positive thinking can help manifest success. It helps that McGregor works extremely hard and has natural gifts for fighting, but McGregor himself has credited a ton of his achievements to his unflappable confidence in his ability to accomplish anything he puts his mind to.
That got him into the UFC. It took him up the featherweight rankings and won him the belt with a 13 second knockout of the greatest 145 pound champion ever. It led him to shatter UFC pay-per-view numbers in his two fights with Nate Diaz. And it turned him into the first man to hold two belts at once in UFC history.
Now it's gotten him a shot at Floyd Mayweather, and his rock solid belief in himself is really going to be put to the test. Most people are giving him little to no chance in event winning a round, let alone beating Mayweather. But if McGregor had listened to all the people who said he couldn't throughout his career, he wouldn't be where he is now. This is just his latest attempt at proving the impossible is possible, and thus far his record has been pretty good.