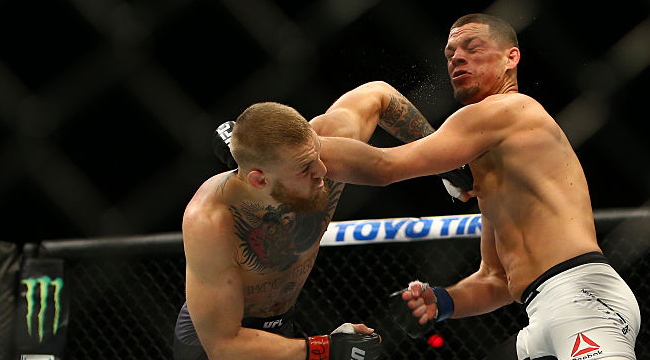 Now that Conor McGregor and Floyd Mayweather is behind us, it's time to move onto the next thing, and the only fight that matters for Conor McGregor now is the trilogy fight with Nate Diaz. He doesn't need to unify his belt with whoever wins the interim title fight at UFC 216's Ferguson vs. Lee. This is what the fans want and what MMA needs. McGregor and Diaz have unfinished big business to do, and McGregor's coach, John Kavanagh, agrees.
Unfortunately, the rumor that it would happen on December 30th was wrong (but Dana White said it wasn't happening so we can still hold out hope). But Kavanagh's hope that McGregor's next fight happens on St. Patrick's Day this March sure holds weight. He spoke at an event at Dublin and produced this interesting quote (h/t MMA Fighting):
"December 30th is definitely not happening. I can also tell you that his manager rang me this morning saying that him and Conor had been in meetings all day. Obviously, tomorrow is when we would start to consider the date. If it was my choice, and I must stress that this is only my choice and that doesn't mean it's going to happen, it would be Nate Diaz in March. That's what I would push towards.

"I have in my head that it would be a Paddy's Day card in New York, Nate Diaz 3. I think that would be absolutely amazing. That's what I would wish for."
What McGregor wants, McGregor typically gets, and the fight will do some huge numbers, which is what the current UFC ownership is trying to make happen at every turn, so hopefully, this happens and then we can work on McGregor fighting someone else. Unless he goes back to boxing. Kavanagh, ever the troll not unlike McGregor at times, finished the interview with this frustrating and exciting tidbit:
"Obviously, it could still be Canelo in May."
Ugh.