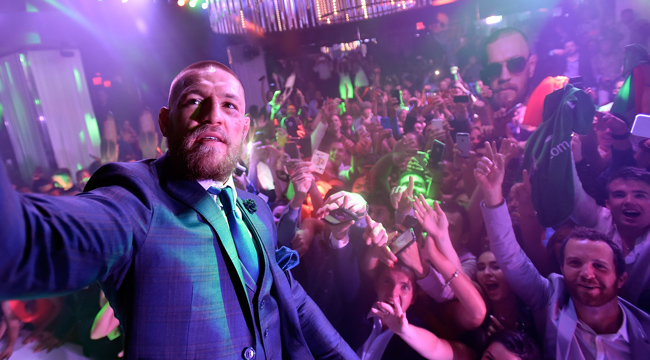 With Tyron Woodley vs Stephen 'Wonderboy Thompson fighting for the welterweight belt and big names like Donald Cerrone and Rashad Evans participating, the UFC's inaugural New York event is finally starting to come together. But one thing it's missing is a real superfight at the top of the card featuring one of its biggest stars.
There have been rumors that it might be Conor McGregor, who would fight Eddie Alvarez for the lightweight belt. But now UFC president Dana White is denying that, instead declaring that Alvarez would defend his belt against long time number one contender Khabib Nurmagomedov.
Khabib himself seemed to confirm the UFC's fight offer with his own tweet.
According to the rumor mill, McGregor's participation at UFC 205 was dependent on him relinquishing his featherweight title, an interesting demand from the UFC considering it hasn't even been a year since he defended it. Former featherweight champ Jose Aldo had two stretches in his reign where he didn't defend his belt for over a year. But the UFC decided to add an interim featherweight title onto UFC 200 to make it a bigger card, and now they're insistent McGregor fight interim champ Jose Aldo or drop his title. That doesn't sit well with McGregor, who is one of the most active fighters on the roster and is angling to become the first fighter in UFC history to hold two belts at the same time.
Just like with UFC 200, the UFC refused to budge and Conor McGregor will sit out on UFC 205. Here's what the big Madison Square Gardens card is looking like now:
Tyron Woodley vs. Stephen Thompson for the 170 pound belt
Eddie Alvarez vs. Khabib Nurmagomedov for the 155 pound belt
Donald Cerrone vs Kelvin Gastelum
Tim Kennedy vs. Rashad Evans
Thiago Alves vs. Jim Miller
Gian Villante vs. Marcos Rogerio de Lima