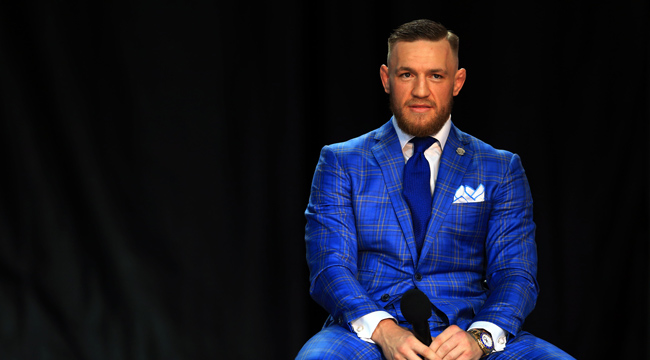 The Floyd Mayweather vs. Conor McGregor boxing superfight is coming at us fast on August 26th, and to prepare for the fight Conor's coaches have been bringing in a handful of high end boxers to spar and see how their unusual fight tactics work in the ring. One of those guys is former welterweight and junior welterweight champion Paulie Malignaggi, who interestingly enough was part of the Showtime broadcast team during the MayMac World Tour.
Malignaggi said some not so nice things about McGregor's chances during the tour, nothing too different from what most folks in boxing are saying. But unlike most folks in boxing, Paulie ended up in a ring with McGregor soon afterwards, and things got 'rough.' Boxing referee Joe Cortez was there to call the sparring match and shared a little of what he saw with SiriusXM Boxing (via Bleacher Report).
"He handled himself pretty good with Paulie," Cortez said. "That guy can pop. He was in there mixing it up a little bit with Paulie, and it was the real thing. They was no messing around. In fact, I had to stop the action, and I had to say, 'All right, guys, you guys are a little out of control here, you gotta stop this.' It got a little rough. They were both roughing each other up, and I had to stop the action like in a regular fight."
"They were holding too much, they were trying to punch each other. I mean, it got a little bit out of control where I had to call time. 'All right, guys, you gotta stop this right now, I want a good clean round. Give me sportsmanlike conduct, understand? I don't want to take any points from either one of you, do you understand?' I looked at them, and they said okay, all right."
Malignaggi changed his tune to a degree after that sparring, complimenting Conor on his determination but downplaying his much-hyped punching power.
"There's above average power, so if he lands a good shot on you, I mean granted, with small fight gloves he will hurt you," Paulie said on the Jim Rome show. "But it's not 'Oh my God' power where every time he touches you you're like my goodness, this is very uncomfortable. It's not that kind of power, but it's good enough."
"I can't say based on a sparring session 'Oh I'm going to pick this guy to win the fight.' But I will say this, he's serious about what he wants to do. He has an awkwardness to where he can land some shots, and I wouldn't say his power is what the reputation holds it for. I wouldn't say it's that strong, but his power is enough to where you definitely should respect it."