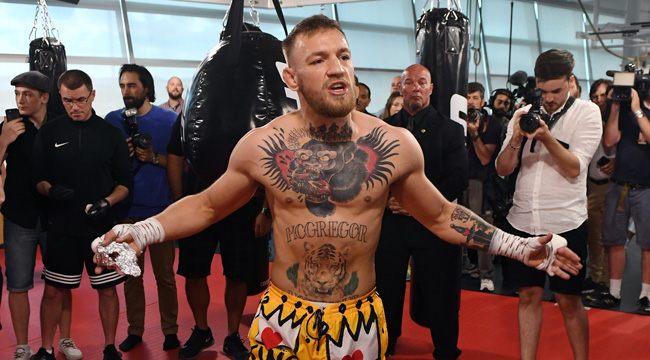 Conor McGregor was in good spirits earlier today during a media conference call to promote his boxing match with Floyd Mayweather on August 26th. If any of the public ridicule or opinions from the boxing community that he stands no chance have gotten to him, he sure isn't showing it.
"Thank God I'm in the game," he said. "Thank God it's me on the other side, otherwise it would be one hell of a boring build up to the contest."
A lot of the press lately has focused on former sparring partner Paulie Malignaggi, who went on a media tour after quitting McGregor's camp over photos that made it look like McGregor was tuning him up in training. After a week of smack talk and controversial video footage of the sparring, Malignaggi called McGregor out for a fight. It was something McGregor didn't sound particularly interested in.
"Tell the kid to join the queue," McGregor said. "Tell him to shut his mouth an join the queue. He got a full shake, mate. We flew him out and he got his ass whooped and went sprinting, I don't know what else to say about the guy. But hey, there is a big list of people that want to get in there and try and fight me, so tell him to join the queue and we'll see what happens after the [Mayweather] fight."
Dana White was also on the media call and shared his surprise that the Malignaggi situation exploded the way that it did.
"Obviously the whole Paulie thing popped up out of nowhere," White said. "That thing happened and went down, and it's funny all the twists and turns that happen when you're promoting a fight like this. And yeah, obviously [Malignaggi] was saying all this crazy stuff for five or six days, and then finally I was like you know what, I'm going to put out some of the footage here and just stop all this craziness.
"And when I put the footage out, just another example, just the footage on my instagram alone, both on Instagram are over a million, my Facebook was over two million, and Twitter was close to two million too, just on mine. And that doesn't include everywhere else it went."
You could chalk that up to another reason a McGregor-Malignaggi boxing match could generate a lot of interest. But as far as McGregor is concerned, anyone he beefs with is likely to get that kind of attention. Still, let's be real here: the most likely scenario on August 26th is a McGregor loss. If Conor still wants to continue boxing, he may not have many other viable options for opponents.