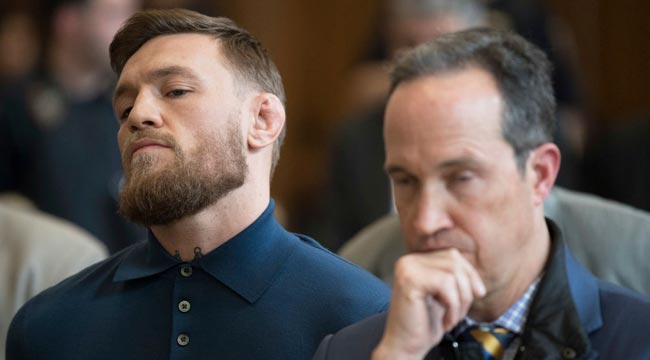 The insanity that Conor McGregor brought to UFC 223 was unprecedented. A busted up bus, multiple goons trying to get at Khabib Nurmagomedov, and three counts of assault and felony criminal mischief later and here we are. McGregor spent the night in a Brooklyn jail, Dana White is "disgusted" by him, and now we have a plethora of odds on his next moves in the cage, out of the cage, or just him causing mayhem.
The first set of odds that OnlineGambling.lv posted is based all around McGregor and the fallout from his rampage at the UFC 223 media day:
Number of lawsuits that get filed against Conor McGregor: 2.5
Odds it was staged with UFC: 250/1
Odds he fights in UFC again: 1/19
Odds he actually loses lightweight belt: 1/9
Odds he regains lightweight belt at some point: 3/2
Over/Under date he regains lightweight belt: Dec. 29, 2018 (date of UFC 232)
Odds if he ever boxes or fights MMA again: 1/99
Which does he fight next/first:
Odds he fights Dana White: 150/1
The next set of odds are based on what he does next. Considering he's back in Ireland now, out on bail, he could consider laying low and waiting to hear if he's in trouble with the UFC. While that's doubtful in any meaningful sense (the UFC needs him to come back desperately), the odds are certainly something. The most interesting odds: the odds he goes to an anger management therapist. What if going to one is court-mandated? That seems like a great bet.

a fight (boxing or MMA): 1/2
an anger management therapist: 9,999/1
The last set of odds are goofy, as expected. What event does Conor crash next:
UFC Fight Night: Thompson vs Till (in Liverpool on May 27): 9/1
UFC Fight Night: Barboza vs Lee (Atlantic City on April 21): 15/1
Nurmagomedov vs Iaquinta post-fight interview at UFC 223: 25/1
Kentucky Derby (Louisville on May 5): 35/1
WrestleMania 34 (New Orleans on April 8): 55/1
Masters Sunday (Augusta on April 9): 199/1
Prince Harry & Meghan Markle's wedding (May 19 at Windsor Castle): 250/1
A Donald Trump speech: 250/1
While McGregor crashing a Trump rally would be an event worthy of PPV, it's surprising they have such high odds of him crashing the Atlantic City Fight Night. No way that happens. The Kentucky Derby, WrestleMania… Those might happen?
(Via OnlineGambling.lv)