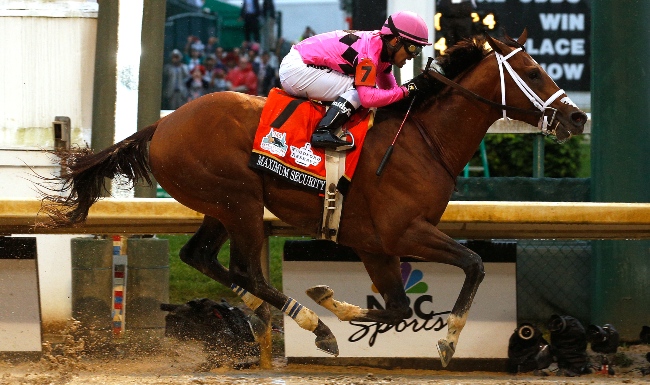 For the first time ever at the Kentucky Derby, the horse that crossed the finish line first was disqualified.
Maximum Security appeared to win the 145th running of the Derby at Churchill Downs, but some jostling in the final turn led to an objection at the conclusion of the race. After a lengthy delay and reviewing of the replay, Maximum Security was disqualified. Country House, with 65-1 odds to win before the race, was named the winner.
For an explanation as to what happened, Kat Terrell of ESPN has your back.
Beneath overcast and stormy Louisville skies, though not quite as apocalyptic as the downpour that preceded last year's race, Country House got himself out to a head start in the race for the Triple Crown, buoyed by the late Wednesday scratch of 4-1 favorite Omaha Beach, who was forced to miss the race with entrapped epiglottis, which makes it difficult for the horse to breathe. Here's how the the final stretch of the race went down…

…but this moment of interference ended up making this race historic.
Maximum Security entered the Kentucky Derby with the best odds, sitting at 4-1, but that was all for naught by the time the review was finished. Instead, Country House came out on top, giving those who put their money on the second biggest longshot to ever win the race the thrill of a lifetime.
Next up in the Triple Crown race is the Preakness Stakes, which takes place on May 18th at Pimlico Race Course in Baltimore, followed by the Belmont Stakes on June 8th in Elmont, New York. They'll both assuredly be captivating races after a Kentucky Derby for the ages.