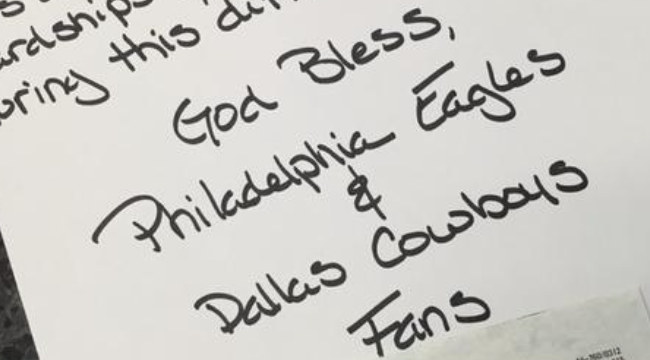 The Cowboys-Eagles rivalry is steeped in hatred going all the way back decades. There's absolutely no love lost between these two fanbases. The rivalry hit a new peg this offseason when the Eagles nabbed DeMarco Murray in free agency. Because pettiness knows no bounds in this rivalry, Eagles fans flew a "We got DeMarco" banner over Cowboys training camp in Oxnard, Calif. Cowboys fans promptly responded, with the help of Greg Hardy, by flying a "We Still Dem Boyz" banner over an Eagles preseason game.
The banner war was on the precipice of escalating when a tragedy occurred. A plane, leaving from the same small airport as the banner planes, crashed, killing the pilot. It was originally believed that the crash involved the banner plane, but that was not the case. Nonetheless, Eagles and Cowboys fans banded together using social media and a Go Fund Me account to raise $4,000 for the pilot's family.
The Eagles fan behind the Go Fund Me account issued this statement after delivering the money to the pilot's wife:
"Thank you to everyone who contributed to this cause. I spoke with the pilot's wife last week, arrangements were made, and now some relief (and much needed) is going to this family during this difficult time. The total amount, regardless or gofundme fees, has been sent to the family. His wife had no idea who I was, who we were, or the story behind the "banner wars"…..but in one of the lighter moments during our conversation she interrupted me and said "Wait…I thought Eagles and Cowboys fans hated each other". While hate is a strong word (yet incredibly accurate) we're all human, and I think it showed in this very brief but perfect example.
For a single moment in time, something good and wholesome emerged from the Cowboys-Eagles rivalry.