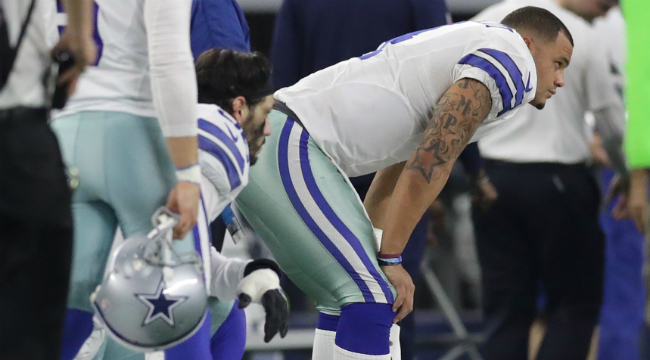 The Dallas Cowboys spent all season as the best team in the NFC, but all it took for their year to go up in smoke was a red-hot Aaron Rodgers, who needed only 30 seconds and a great grab from Jared Cook to get a field goal as time expired, sending Green Bay to the NFC Championship. By now, you know the drill: people on Twitter delighted in rubbing Dallas' face in the loss. As the self-proclaimed America's Team, the Cowboys are just an easy target for everyone.
Before we get to all the online people dunking on the Cowboys, or just holding their hearts after the game's crazy finish, let's take a moment to appreciate the Cowboys fans who, true to their overconfident nature, started taking their victory laps way too early. Like Skip Bayless, who tweeted this out when the Packers still had 30 seconds left.
You've got to give it to the man — he works really hard to be this wrong. But he's not nearly as committed as this poor fan, whose tweet from December blew up again after the game for predictable reasons:
Better start thinking of things to add underneath to try to make that less embarrassing, Jordan.