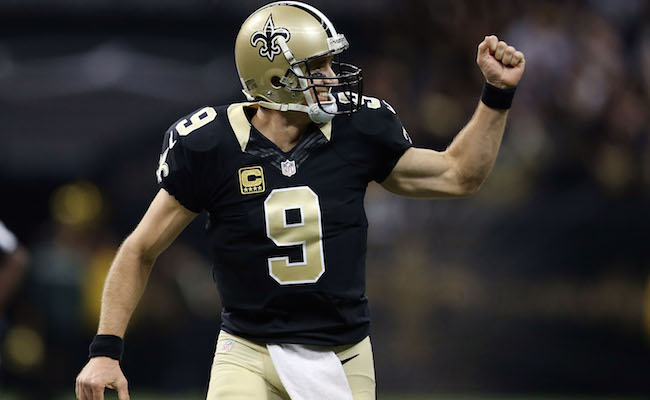 The New York Giants and New Orleans Saints had by far the craziest game of the year thus far on Sunday, capped off by New Orleans kicking a last-second field goal in regulation to give them a 52-49 win.
In addition to having crazy plays like a flea flicker touchdown and a wild interception return for a touchdown, the game featured a pretty ridiculous amount of record-setting performances, including the fact that the 101 combined points were third most in NFL history.
Drew Brees became only the second player in the history of the NFL to throw for two 500-yard passing games (joining Ben Roethlisberger) after he first did it way back in 2006 against the Bengals. Brees' final line was 40-50 with 511 yards, seven TDs and one interception. If Saints kicker Kai Forbath had missed the game-winning field goal and New Orleans got a little help from their coin toss (or their defense, though that seems unlikely) he would have had a real shot to break the all-time single-game record of 554 yards set by Norm Van Brocklin. The seven touchdowns Brees threw tied him with seven others for the most in a single game in NFL history.
Eli Manning took the L, but he wasn't too shabby himself, finishing with 350 yards, six touchdowns and no picks, while Odell Beckham Jr. finished with 130 yards and three touchdown receptions. The 13 combined touchdown passes for the two QBs were the most in NFL history and the Giants' 49 points tie them for the NFL record with the most points scored in a loss.
I'm not sure if the Brees and Manning were really that locked in, or if the Giants and Saints defenses are really that bad (probably a combination of the two) but there most likely is not going to be another game like that one at the pro level again for a quite a while.