In the first women's super fight in the organization's history, bantamweight champion Amanda Nunes stunned the MMA world champion with a first-round knockout of Cris "Cyborg" Justino to claim the featherweight title at UFC 232.
The fight got off to a ridiculously fast start, with Cyborg and Nunes throwing hands to open the first round. Nunes caught Cyborg with a brutal right hand that had her stunned, connected on another left hook that dropped her, and knocked her out with a devastating right hand against the cage.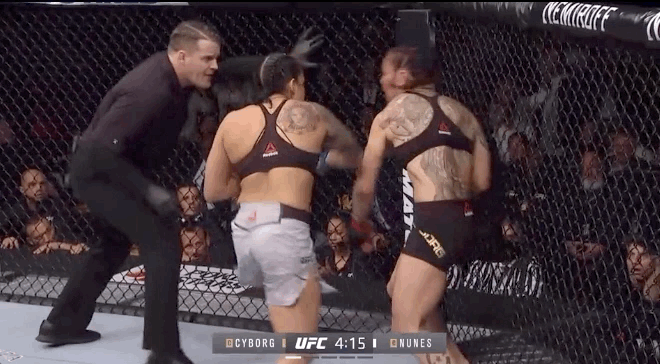 The win moves Nunes to 17-4 on her career, becoming just the third simultaneous two-division champion and the first in the women's division.
Cyborg has long been considered one of the top women's fighters in MMA alongside fellow UFC legend Ronda Rousey, leading to Saturday's super fight against Nunes. Her loss to Nunes was just the second of her illustrious career.
Nunes rattled off seven consecutive wins heading into her showdown with Cyborg, beating some of the top women the sport has seen, including Miesha Tate and effectively ending Rousey's UFC career with a stunning first-round TKO in 2016. Nunes has to be considered one of the greatest women's fighters of all-time after her incredible first-round upset in Los Angeles.