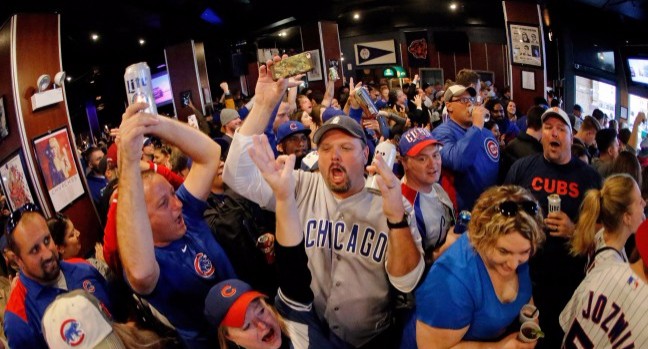 In case you hadn't heard, the Chicago Cubs are a win away from the World Series. This is a big deal because the Chicago Cubs haven't won a World Series since before there was a Facebook (okay, a lot longer than that). And the city is probably going to freak out a little bit if the Cubs end up beating the Dodgers in Game 6 of the NLCS on Saturday.
In advance of that, and because Wrigleyville is completely nuts anyway, Chicago is taking the necessary precautions.
This isn't a rare occurrence. When the Cavs were playing Game 7 of the NBA Finals at Golden State, Cleveland started shutting down access to the city shortly after the team won, to keep traffic down and to make sure everyone was okay. Wrigleyville was already pretty much at capacity heading into game time, and that's even before the Cubs took an early 3-0 in the first couple innings.
When you haven't won a World Series in more than a century, it's completely understandable to live it up a little bit if you get a chance to be four wins away from it. And Wrigleyville on a normal Saturday night when the Cubs aren't playing is a little bit of a drunken mess, so playing it safe isn't a bad idea. I just can't imagine what beer prices are near Clark and Addison right now.