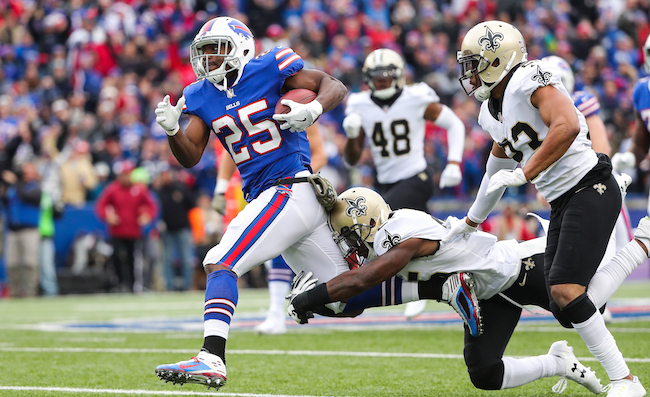 America's #1 outlet for holding up prop letters and fences to will millionaires to victory continues to chug ahead on its path to Super Bowl LII in Minnesota. (A guy we like progressively less and less will be performing at halftime. Get excited, football fans not wanting to die in a nuclear holocaust before February!) As is customary on Thursdays, UPROXX is serving up daily fantasy football advice of varying quality to assist your DFS roster selection. Seeing as the NFL has been batsh*t crazy in 2017, take these tips with a freighter full of salt. If you're in the market for advice in a more traditional fantasy league format, handsome young gunslinger Jason Nawara is your lifeline.
Right, let's hop to it.
Quarterback
https://www.instagram.com/p/BbQYTTmlwX8/?hl=en&taken-by=chiefs
Invest in Alex Smith: There's something borderline reassuring to Alex Smith's blandness. He could break into my home at 3 in the morning and I wouldn't feel scared. (Just sorta tired and suspicious of his ability to burgle me in a high-pressure situation.) It's this man's human drywall traits that have made picking him and ditching him throughout his above-average 2017 campaign such a snap. No messy emotional attachment, just a dull vessel that is making the most out of Kansas City weapons like Tyreek Hill, Kareem Hunt, and Travis Kelce. In Week 11, Smith gets a sweetheart matchup against a Giants team that made C.J. Beathard look like Joe Montana last weekend. (The G-Men currently give up the most fantasy points to QBs than any other team in the league.) As the Giants dissolve into nothingness, Kansas City returns from a bye ready to feast and that's good news for boring ol' Alex Smith.
Avoid Derek Carr: My colleague Jason and I agree on Alex Smith, but I'm far less bullish than he is on Derek Carr's value against the Patriots on Sunday. New England was once a reliable 2017 fantasy punching bag thanks to defensive problems and now that status has changed. The Pats haven't given up more than 17 points to an opponent since Week 4, the defense has managed to look good even with Dont'a Hightower's season-ending pec injury and Oakland haven't shown the same offensive spark as last year. Carr's certainly not incapable of having a monster game in Mexico City, it just doesn't feel like the best fantasy play with these factors working against the Raiders.
Consider Ryan Fitzpatrick: Tampa Bay have largely been a disaster this season, but at least this one-off opportunity might pan out for your DFS lineup. Ryan Fitzpatrick certainly didn't look like God on HGH in the Bucs' 15-10 win over the Jets, so why give him a go now? He's up against Miami who have given up the fourth most fantasy points-per-game to QBs in the past four weeks and has surrendered an average of 37+ points-per-game in their three games losing skid. Add in the return of suspended star wideout Mike Evans and Sunday's $5,300 Fitzpatrick salary on DraftKings doesn't look half-bad. It's definitely a gamble, but a gamble worth having an extended think about.
Running Back
Invest in LeSean McCoy: It hasn't been easy to trust Shady this season, but Buffalo's matchup against the sputtering Chargers inspires confidence and visions of a big fat stat line you can rub in your high school guidance councillor's face. The Saints tearing the Bills to pieces limited McCoy's usage, but he should be relied upon as an offensive safety valve in rookie QB Nathan Peterson's first NFL start. Drizzle the knowledge that the Chargers have the worst rushing defense per game average in the league (sacrificing 135.1 yards per contest) on top, an uncertain passing game and the likelihood of Chargers coach Anthony Lynn being humiliated in some capacity and you've got a case for Shady to be your baby once more. Or Buffalo will continue to collapse into a black hole of failure. My colleague Jason disagrees with my logic. Please don't hit with large pieces of wood if he's right and I'm wrong.
Avoid Alfred Morris: Provided Ezekiel Elliott doesn't parachute onto the field in Week 11, Alfred Morris seems likely to continue his newly adopted role as the Cowboys back with the most touches. This new dynamic hasn't exactly set Dallas' world on fire and Morris appears destined for disaster in primetime against the NFC East-leading Philadelphia Eagles. The Iggles have neutralized opposing rushers all season with the stingiest yards allowed of any rush defense and over nine games the club has only allowed 4 rushing TDs. Granted, Philly wasn't up against many elite backs in that stretch, but there's nothing about Alfred Morris that screams genuine threat.
Consider Austin Ekeler: In the mood to push some luck? The other weapon in the Chargers run game Austin Ekeler has a home date against the Bills following an outstanding 119 all-purpose yards and 2 TD reception showing in Week 10. The undrafted Los Angeles rookie isn't going to unseat Melvin Gordon as the lead Chargers back, but that showing can be replicated against a Bills defense that's been gifting points to opposing running backs like it's going out of style. It's a risky pick, but not as outrageous as Ekeler's depth chart status and humble $4,500 DraftKings salary might suggest.
Wide Receiver
Invest in Tyreek Hill: Traditionally, a date with an elite cornerback should sink your value, but Janoris Jenkins looked checked out against the lowly San Francisco 49ers and why on earth would he want to emotionally invest in a date with the Kansas City Chiefs while trapped in Giants hell? The Giants as a whole have seen their secondary fall apart (or have a team issue specific suspensions) and the swollen fantasy numbers of their opponents backs that up. The Chiefs are returning rested from a bye week, have the playoffs to aim for and put up 28.1 points-per-game in this year's campaign. I like Hill's chances in East Rutherford.
Avoid Jordy Nelson: Like the bulk of the Packers offense, Jordy Nelson has not transitioned smoothly from the MVP caliber play of Aaron Rodgers to the earnest temp play of Brett Hundley. Nelson's value has sank while Rodgers has been sidelined and the 20+ point fantasy outings of the start of the season are now a distant memory. Next up? A clash with Baltimore's stingy (and pick-heavy) defense. You might as well draft "putting your hand into a snowblower" at that stage. Avoid.
Consider Mike Wallace: Jeremy Maclin's status for Week 11 is still up in the air, but Mike Wallace is good to go and potentially good to grab a chunk of Maclin's workload against the Packers. Green Bay has given up an average of 31 fantasy points to opposing receivers over their past two contests and Baltimore should be relishing an opportunity for some sort of passing game rebirth with a crowded playoff picture still to be sorted out. Wallace's meager $3,800 DraftKings salary makes for an enticing gamble versus a beatable Pack defense.

Tight End
Invest in Travis Kelce: It feels a bit cheap to continually prey on the Giants in this week's forecast, but the price tag attached ($7,300 on DraftKings) is anything but thrifty. Travis Kelce will set you back a pretty penny and that's because the Giants give up the most fantasy points on average to tight ends of any team in the National Football League today. That's the sort of matchup you want for a beast like Kelce who has been hot of late (29.3 and 20.3 fantasy points earned respectively in his last two games) and can be a reliable target for Chiefs QB Alex Smith.
Avoid Eric Ebron: A touchdown against the Browns in Week 10 isn't enough to separate Ebron from his frustrating fantasy status. Ebron seems to have the tools, but he hasn't looked the part in Detroit and has only topped three catches in a game once this season. The creeping presence of teammate Darren Fells and a tough date against Chicago isn't doing the man any favors on Sunday. Ebron's a frustrating guy to place in the Avoid bin because you can see that potential one-off monster game on the horizon, it just isn't happening versus the Bears.
Consider Tyler Kroft: If you've got the nerve for a big risk/big reward play at tight end, Tyler Kroft seems poised for a bounce-back game in Week 11 against the Broncos. Denver is only outdone by the Giants in the giving up fantasy points to tight ends department and that gives the Bengals TE (a budget conscious $2,900 on DraftKings) a matchup that could bring him closer to that blockbuster 24.8 fantasy point showing against the Browns. Kroft has disappeared at times throughout 2017, but he has the potential to be visible and (more importantly) dominant against a reeling Broncos defense.
Here's a bit of a visual aid of what a potential Week 11 DraftKings squad might look like. Naturally, this will backfire because I put it out there in the world. Have a good football, everybody!