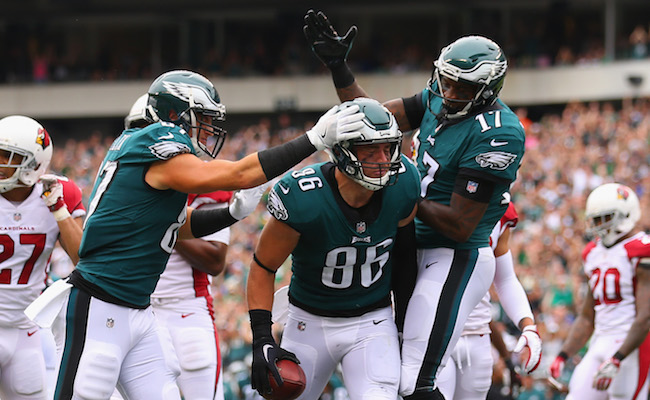 Nothing says Week 9 quite like the dreary reality of a six-team bye week and a Monday night game that features the Packers without Aaron Rodgers. FEEL THE MIDSEASON ELECTRICITY! It's a bit like football's giving you a hall pass to watch the NBA or UFC instead this week, but those of us that like fielding a daily fantasy football roster, it's important we watch every game we can and try to mentally will our chosen squad to victory. Let's nurse that discount Halloween candy hangover with the usual splash of DFS advice, shall we? As always, these are recommendations made by a wino that gets winded watching Friends reruns, so grain of salt and all that.
For those that prefer their fantasy football takez® in the more traditional league format, UPROXX charmer Jason Nawara has you covered.
Quarterback
Invest in Deshaun Watson: There's a reason why Deshaun Watson is the most expensive QB option on DraftKings for Sunday's afternoon slate. The Texans rookie put up berserk fantasy totals in Seattle with 400+ yards passing, 4 TDs and yards on the ground against the Seahawks and now he gets a much easier task against the Indianapolis Colts who have been allowing a league-worst 30.8 points-per-game. It's sort of like adjusting the difficulty setting in a video game from "moderate" to "Colts." The wheels will likely fall off before 2017 is through, so why not enjoy this plum Watson matchup now? Heck, you can even scarf down a cake with "I am confident in Deshaun Watson" icing while you do it. LIVE THAT LIFE!
Avoid Brock Osweiler: Brock Osweiler is back, baby! After the pivot and his big fat contract washed out in Houston and never panned out in Cleveland, his you can't teach tall credentials have earned him a start in his second Broncos go-around. This can only end well, right? No? Oh, alright. The Eagles are a relatively generous opponent for opposing QBs, but there's nothing about this Week 9 budget option (Osweiler will set you back $4,500) that inspires hope. Trevor Siemian's regression after a hot start didn't happen in a vacuum, the Browns thought they had better QBs on the roster than Osweiler (grim!) and a quarterback change won't solve all of the problems that have put the Broncos on an ugly three-game losing skid.
Consider Jared Goff: Jared Goff, a man with a name that sounds like the whitest country club magic spell, has not yet turned into a sophomore year pumpkin in his radically improved second campaign. The Rams return refreshed from their bye week and get a Giants team that's gifted opposing quarterbacks big totals (a shade over 19 fantasy points averaged by QBs a game) and has done Los Angeles the favor of suspending star cornerback Janoris Jenkins indefinitely. Goff has been a worthy play against the right opponent and his Sunday afternoon DraftKings salary ($5,500) is worth your attention too.

Running Back
Invest in Alvin Kamara: After losses to the Pats and Vikes to open the season, the Saints have gone on a five-game win streak and have been liquifying opponents in the process. That trend could continue on Sunday at the Superdome against the visiting Bucs in their NFC South clash. Alvin Kamara and Mark Ingram have a tantalizing matchup versus a vulnerable Tampa Bay defense with Kamara likely to get more love in the New Orleans backfield with Ingram's recent problems holding on to the football. Kamara has already demonstrated he's a dangerous rushing and receiving threat and now he gets an excellent showcase contest against a Bucs run D that has doubled as a turnstile away from Tampa.
Avoid Frank Gore: What better way to celebrate Frank Gore's first 100+ combined yards performance on the season than with shunning the Colts veteran from your life. Take that, personal achievement! Gore had a nice outing against the Bengals in Week 8, but his value seems to be shrinking with Indianapolis rookie Marlon Mack getting more snaps and being the back with big-play ability. Houston won't be particularly worried about what Gore brings to the table in Week 9 against their serviceable rush defense. If an Indianapolis running back is going to light up the Texans, is going to be the boom-or-bust option of Mack and not Gore.
Consider Adrian Peterson: We've gotten a mixed bag since Adrian Peterson moseyed over to Arizona after a misfit stint with the Saints. AP tore Tampa Bay's spine out with his first game in a Cards uniform and promptly sh*t the bed against the Rams in London. If you're feeling saucy, there's reason to believe Peterson might have another feast of a game within him in 2017. The Niners have given up big games to Ezekiel Elliott and Todd Gurley at home this year and Peterson has the opportunity to run wild on a lousy San Francisco rush defense. Carson Palmer's broken arm means Drew Stanton will lean on the Cards run game in his new role as starter and that could pay off big for anyone with Peterson in their lineup.

Wide Receiver
Invest in Dez Bryant: Lousy weather and a tough match-up against Josh Norman did Dez Bryant no favors last week. The upside? Bryant's upcoming showdown against the Chiefs feels like t-ball by comparison. Dallas will have to lean on their passing game with Ezekiel Elliott out and a collection temps filling in at RB and what better team to do that against than Kansas City? The Chiefs have given up 13 TDs to wide receivers this year (most in the NFL) and look destined to be drawn into a shootout against Dak Prescott's passing attack. The scoreboard will get a workout and so will the premier receiver for the Cowboys. Bryant's $6,400 price tag is pretty reasonable considering the potential return.
Avoid Rishard Matthews: Baltimore's defense has been erratic at times this season, but they're likely to give Titans wideout Rishard Matthews fits on Sunday. The Ravens have been a tough matchup for fantasy WRs and nothing about Tennessee's current system suggests a passing barrage that gives Matthews boom week in production. Heck, the potential return of Corey Davis in the Titans offense is the most interesting this about the air attack in Week 9. With Cincinnati and Pittsburgh up next in Tennessee's regular season schedule, you might want to pass on drafting Matthews for one-off play until at least late November.
Consider Ted Ginn Jr.: The Saints are rolling and face a shreddable secondary in the visiting Bucs on Sunday. That's exciting news for those of you with Ted Ginn Jr.'s poster in your locker and faith in his ability for huge games in your heart. Ginn is the sort of receiver that should thrive as the non-primary WR in this NFC South clash. Two weeks back, Ginn racked up 24 fantasy points against the Packers and earned nearly 17 the week before versus the Lions. Ginn thrives in the right situation and everything about New Orleans going up against Tampa Bay screams The Right Situation.

Tight End
Invest in Zach Ertz: BREAKING: Good football player is good. It's a bit of an on-the-nose pick, but Zach Ertz has been everything advertised and more this season as Philadelphia's star tight end. He's currently riding a 4-game touchdown streak and hasn't delivered a performance below 13 fantasy points all season. Sunday's clash with Denver should keep that going. The Broncos have the sort of defense that can stop Philly's rushing plans, but hasn't been able to contain tight ends. Travis Kelce and Evan Engram have both enjoyed big games against Denver, so why not Ertz?
Avoid Martellus Bennett: Martellus Bennett with a $3,000 salary in Sun-Mon slates might sound tempting, but holy smokes has Bennett fallen into oblivion since coming aboard in Green Bay. The Packers tight end hasn't recorded a single touchdown all season and he's at the stage of the year where it's Brett Hundley passing him the ball and not Aaron Rodgers. The Lions have held opposing tight ends to a stingy two total TDs this season, so don't expect a helping hand from Detroit on Monday.
Consider Tyler Higbee: Provided you're still bullish on the Rams, sophomore tight end Tyler Higbee is a pretty tempting play with a $2,800 Sunday matinee salary. Higbee hasn't lit the world on fire in the position, but he has put himself ahead of his peers in terms of value in L.A.'s attack. Facing a Giants team that's given up the most touchdowns to tight ends in 2017, Higbee's value gets a significant boost as long as New York doesn't solve this problem by kickoff. There's the potential for crashing, burning and sub 5 fantasy point earning, so exercise caution before guzzling all the Flavor-Aid on this option.
Have yourself a sassy lil' football, everybody!