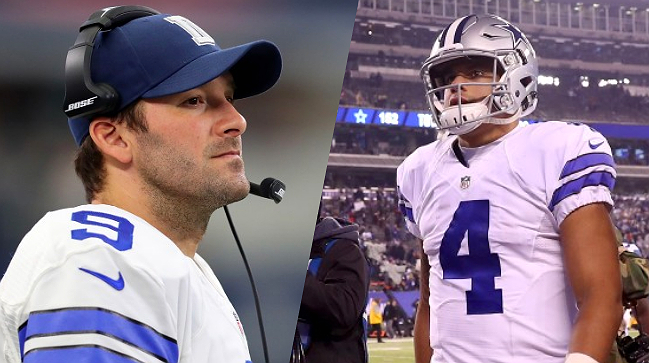 It's common in the NFL for teams who wrap up playoff position early to rest their starters, lest they get injured in a meaningless game and have to sit out when it really counts. The Dallas Cowboys are in that position, having locked up the number one seed with plenty of time to spare, but according to Jerry Jones, they have no plans to bench rookie starter Dak Prescott in favor of veteran backup Tony Romo.
Romo, of course, isn't your average backup — he's a former MVP candidate who only lost his job permanently because Dak simply refuses to lose games. But he's also a bigger injury risk than Dak due to his multiple spinal and collarbone fractures, so Jones doesn't believe that getting him back into a game for the first time this season is worth the chance.
"We don't feel like any game we'd get from him stepping out there running some plays, several plays, a series of plays would be worth the risk," Jones said. "I think we pretty much stay to plan. It wouldn't surprise me to see us get some of the same snaps [as last week]."
Of course, the Cowboys do pay a third quarterback in Mark Sanchez, so they could ostensibly start him and keep both of their prized QB assets in bubble wrap. But despite appearances, Prescott is still a rookie, so there is a definite benefit for giving him more playing time and experience. However, after broken legs to quarterbacks decimated Miami and Oakland's playoff chances, the risk of a freak injury derailing Dak's season feels even more real. If Tony Romo isn't going to play, maybe it should be time for the Sanchize.
(Via Dallas Sports Day)