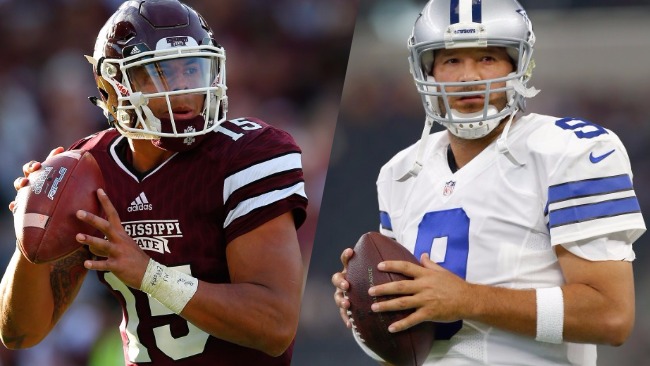 When the Dallas Cowboys selected Dak Prescott in the fourth round of this year's NFL Draft, it was a notable selection for a few reasons. First of all, the former Mississippi State quarterback grew up a Cowboys fan, and it's always extra special to see guys selected by their favorite team.
But it's also notable that Prescott hasn't always been a big fan of Tony Romo, the veteran starter he'll now be backing up. After the Cowboys took him with the 135th overall pick last Saturday, he had to discuss some old tweets in which he ripped Romo.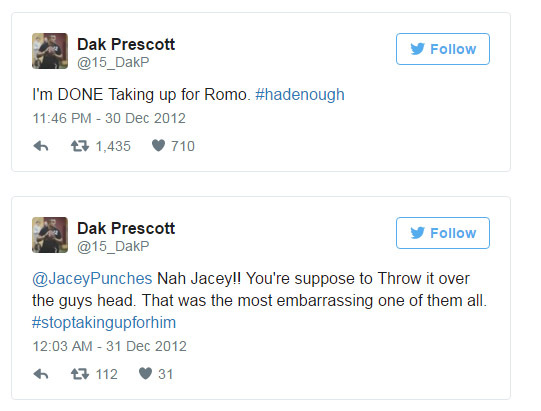 Of course, Prescott was asked about those (now deleted) tweets as soon as he arrived at the Cowboys' rookie minicamp. Here's what he had to say:
"I'm going to let him bring it up. I think it's funny, I'm sure he'll think it's funny. I was a frustrated fan at the time. I'm sure you can go back and look at fans of Mississippi State and they may have said something similar at one point or another, so I was just being a fan and now he's my teammate and I'm behind him 100 percent." (via)

…

"Romo wins and I win, and I think that's the biggest thing you can take from the quarterback's position, the biggest takeaway," Prescott told Dallasnews.com. He goes out there and he wins a lot of games and always has the Cowboys in position to win a game and I felt like I did the same thing in college. To come to the Cowboys and learn under him will be exciting."
A pretty professional response from the newcomer, so points to him for handling it all in stride. Romo isn't any stranger to internet criticism, so I'm sure he'll survive.
Those tweets came from a 28-18 Dallas loss to the Redskins in Week 17 of the 2012 season, in which Romo threw three interceptions. So, as a Cowboys fan, it's understandable that Prescott would be frustrated.
At some point, though, these youngsters should just learn to delete their Twitter accounts from college/high school and just start fresh with a new account once they get to the pros. Better safe than sorry.