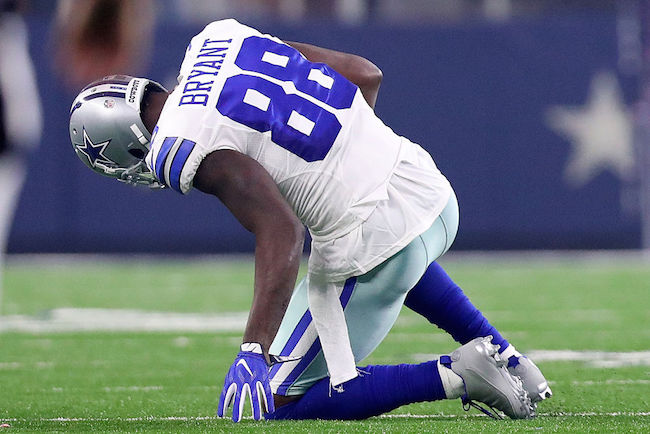 Dez Bryant went down awkwardly on his right knee in the Cowboys' Week 3 win against the Chicago Bears. Bryant returned to the game and scored his first touchdown of the season, but the dynamic wide receiver looked hobbled for the remainder of the game. Bryant was scheduled to have an MRI on the Monday following the game to find out if any his knee had any structural damage.
It's pretty typical protocol that Dez has followed in the past, but for some reason, Dez was a no-show to the Cowboys facility on Monday. Maybe Dez doesn't like the loud noises in the MRI machine or maybe he was catching up on season two of Narcos. Whatever excuse he used, the Cowboys weren't buying it. They fined him for missing the scheduled MRI and some team meetings as well.
When Dez finally received the MRI, doctors discovered a hairline fracture on his knee that could keep him sidelined for up to three weeks. There is a possibility that Dez plays next week against the Niners, but that will be a game-time decision. There is no substitute for a player of Bryant's caliber, and with a rookie quarterback at the helm, the Cowboys will need all hands on deck.
(Via Dallas Morning News)