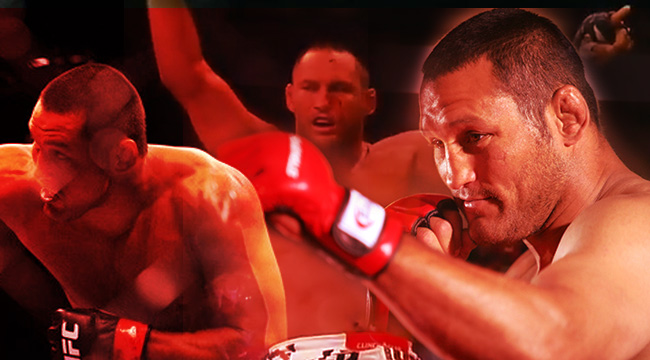 Dan Henderson is one of the true legends of the sport, a grizzled veteran who has been fighting since the no-holds-barred days of the '90s. What's truly amazing though is that he's still at the very top of the mixed-martial-arts game, regularly taking on the best the sport has to offer and often winning those fights despite the odds.
On Saturday at UFC 199, Henderson is facing Hector Lombard in what Dan admits may be his final bout in the cage. We don't want to let that happen without giving some sort of homage to the man they call Dangerous Dan, so we decided to collect five of his most impressive knockouts to remind everyone what an absolute stud he is.
vs Michael Bisping
The H-Bomb was already a thing, but this fight made it a legend. Back in 2009, Dan Henderson and Michael Bisping became coaches for the ninth season of the Ultimate Fighter in a Team US vs. Team UK format. After a contentious season that saw Bisping try to get under the relaxed Hendo's skin, Dan knocked Bisping's block off at UFC 100 in a finish that ended up being the biggest moment of the classic card. Take a close look at the slow-motion replay and you'll notice Henderson kissing his fist after knocking Bisping down with the overhand right.
vs Wanderlei Silva
What kind of madman gets into a gunslinging fight with Wanderlei Silva in his prime? Dan Henderson, that's who. The two had fought to a highly contested decision back in 2000 — the first loss of Dan's career. So perhaps that's what made him decide to sling leather with the Axe Murderer, knocking him out cold and taking the PRIDE Middleweight Championship off him. PRIDE would fold shortly after, making Henderson the last middleweight champion in the company's history.
vs Rafael Cavalcante
After a successful run in the UFC, Dan Henderson left to fight in Strikeforce. He faced off against a promising up and comer nicknamed Feijao, who many were banking on becoming the next great from Brazil. Unfortunately for Feijao, Henderson ran right through him in the first round, literally catching him with his trademark overhand and then bowling over him to faceplant him on the mat.
vs Fedor Emelianenko
After suffering the first real losses of his career to Fabricio Werdum and Antonio 'Bigfoot' Silva, heavyweight legend ended up facing Dan Henderson in what many felt was an easy rebound. Unfortunately for Fedor, Dan had other plans for the match. After surviving a barrage of deadly strikes, Henderson turned the fight around and dumped Emelianenko on his face, following that up with a dozen hard and fast shots to the temple. The Last Emperor fell again, and Dan Henderson's legend grew.
vs Tim Boetsch
After Strikeforce was swallowed up by the UFC and their rosters integrated, Henderson struggled to hang with the best of the best, going 1-5 against names like Machida, Belfort, and Cormier. Boetsch was a strong up and comer and many were wondering if a loss to him would be the end of the line for Henderson. Fortunately, Dan proved he still had gas left in the tank, clipping Boetsch and then following up with a barrage agains the cage to end the fight.