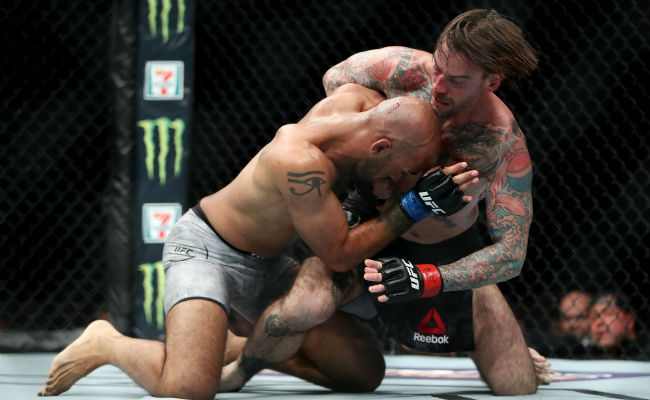 CM Punk's second foray into the world of MMA went better than the first match, but the end result was the same. Punk was on the losing end of a decision to Mike Jackson at UFC 225 in Chicago on Saturday night, leaving many to question the future of his MMA career.
It was 21 months between UFC matches for the former WWE wrestling star, real name Phil Brooks. His pro debut in Cleveland in 2016 ended with him getting choked out in the first round at UFC 203.
But while Saturday night ended with him upright he was also bloodied, tired, and unable to put up much of a fight in the third round against Jackson, who evened his career record with the win as all three judges ruled in his favor, 30-26.

After the fight, UFC president Dana White was frank about Punk's career in MMA, stating matter of factly that it should end. White told ESPN that Punk should "call it a wrap" on his career, which doesn't appear to be going anywhere.
"It probably should be a wrap," White said of Punk's MMA career. "The guy is 39 years old. I love the guy. He's the nicest guy in the world. We gave him two shots, and he had a lot of heart tonight in this fight. And I think he should call it a wrap."
Punk's second fight wasn't as much of a disaster as the first, but it's clear he doesn't have it at this point. The money could say different, but if White says he's had his chances and didn't come through, it's hard to see him getting a third shot in the octagon at this point.