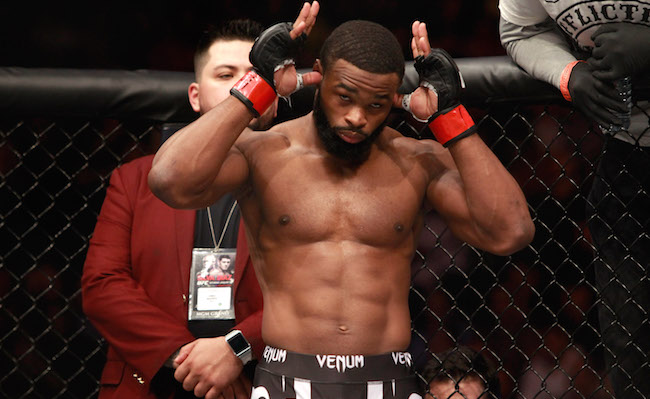 After what's been a less than desirable (read: miserable) start, Georges St-Pierre's comeback plans seem to be back on track with a new opponent in mind. So who will GSP's grand return be against? Well, that's TBD at the moment. No, it's not a Black Scorpion style mystery. The Canadian MMA legend is being lined up to face the winner of UFC 214's freshly announced welterweight title fight.
UFC President Dana White told MMAjunkie that GSP is the likely candidate to face whoever comes out victorious when Brazilian grappling expert Demian Maia challenges reigning champ Tyron Woodley in Anaheim on July 29.
"Georges and I talked a couple days ago when he was in Vegas," said White. "Georges is saying he wants to fight; we'll get this thing figured out. We're talking about Tyron Woodley and Demian Maia. These two are going to fight soon. That will free up the 170-pound champion for Georges St-Pierre to return and try to regain his belt."
St-Pierre being injected into the welterweight title picture (where he famously once held the title for 2,000 days plus) might not have the marketing appeal of a Michael Bisping clash, but there's definitely a story to tell with the title chase and the old guard returning to reclaim what they never lost. This sort of set-up also gives UFC 214 a nice boost. The summer card has Cormier-Jones 2 in the headline position, Cris Cyborg and Tonya Evinger fighting in a de facto reboot of the women's featherweight division and the Woodley-Maia contest that has future fight intrigue to it. Should be fun.
(Via MMAjunkie)