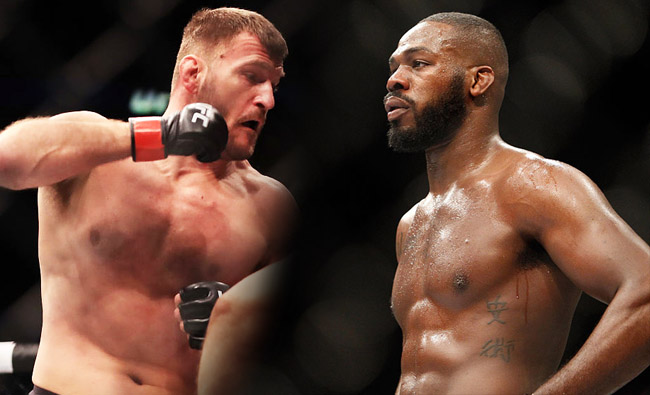 The reports that Jon Jones tested positive for steroids shocked many around the MMA world and comes on the heels of his return from a 1-year suspension for another banned substance that he claimed was a male enhancement drug. As reported earlier, the latest failed test could earn Jones a 4-year suspension from UFC and could even jeopardize his once-bright future in the sport. This was made clear by Dana White following the latest Tuesday Night Contender Series, with the UFC head saying that discussions were underway to have Jones move up to heavyweight and take on current champion Stipe Miocic.
The fight likely would've happened at UFC 218 on December 2nd, but now Jones' future is uncertain and another potential main event has to be scuttled. This also tosses any potential return for Brock Lesnar up in the air, as the current WWE Universal champ was rumored to be up for a UFC return with a possible matchup with Jones.
As for Jones' last opponent, Daniel Cormier seems to be trying to come to grips with the new developments in his rival's career. White praised Cormier and said he "would be the champion" and the top light heavyweight in the world, but the former champ seems to be caught in disbelief at the situation according to Bloody Elbow:
"It's hard to find words to describe how I'm feeling right now. I'm disappointed to hear the news. It's very emotional.

"We as athletes are entitled to due process, and I will refrain from saying much more until I know exactly what happened.

"In my mind, on July 29, I competed and I lost. I thought Jon Jones was the better man that day. I don't know what to think anymore. I can't believe we are going through all of this again. We will see what happens next.

"Thank you to all my fans who have supported me during this dark time. I love you all very much."
The results of the test are now a dark cloud looming over Jones career and the sport in general, made worse by Jones arguably being "best to ever do it" as Dana White said. But White also added that he thinks Jones' career could be over too, marking a foolish end if true.
(Via Bloody Elbow / Sherdog)