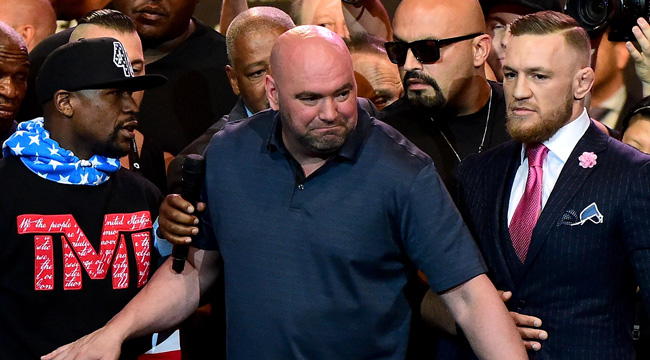 There were some more behind-the-scenes big money moves involving the UFC last week as new owners WME-IMG received a $1.1 billion injection of investment money to buy out minority owners of their combat sports promotion. And while initial speculation figured it must only be referring to groups like the Abu Dhabi royal family (who bought 10% of the UFC back in 2010), the buyouts actually involve former owners the Fertitta brothers and UFC president Dana White as well.
That news comes via The Los Angeles Times, which goes on to explain that not all minority owners are selling their entire stake, and that the planned transactions will solidify WME-IMG as the 51% majority stakeholder. They also contacted White, who assured them this wasn't a sign that he wasn't preparing an exit from the company.

"I'm not going anywhere, brother," White said. "Not only am I not going anywhere, I'm actually making moves in the office and doing [stuff] and changing things for the way I really want it. I'm burrowing myself in like a … tick."
That's a rather unique way of describing things, but unconventional is the conventional when it comes to the outspoken and often controversial UFC president, who has been in charge of the UFC since the Fertittas bought it in 2001. Over the years he's run the promotion with an iron fist, but you can't argue with the results: fifteen years later, the company they bought for 2 million sold for $4.3 billion.
But some have questioned whether a man who just made over $300 million from that sale is the best person to lead the company forward. 2017 has been a down year for the UFC as fighters look at the multi-billion dollar sale and demand a bigger cut for themselves. A rise in the UFC's athletes looking out for themselves has led to more public feuds with White, who is never afraid to share his blunt feelings with the press. In just the past few months, White has been involved in spats with champs Jon Jones, Demetrious Johnson, Cris Cyborg, and Tyron Woodley.
Regardless, it sounds like WME-IMG head Ari Emanuel is still bullish on the UFC and keeping Dana White at the head of the company. So all this news of being bought out doesn't sound like it's changing much … except the size of Dana White's already impressive bank account.