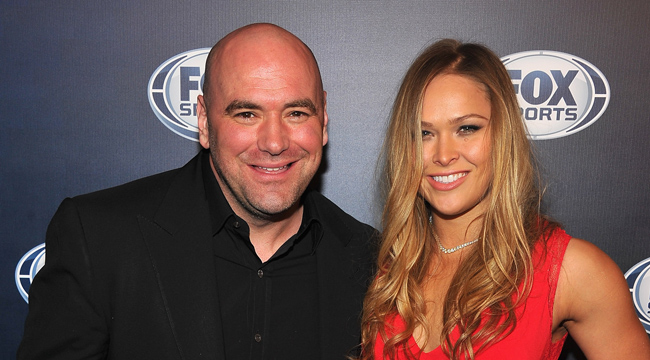 UFC president Dana White has been a busy man through the first month of 2017 as his company adjusts to new ownership and new struggles with their roster of fighters. The start of February is no different with last week's UFC Fight Night in Houston and now UFC 208 this weekend in Brooklyn, New York. That event features the inaugural 145 pound title fight between Germaine De Randamie and Holly Holm, best known for being the first woman to beat Ronda Rousey in MMA.
So of course the subject of Rousey and her future came up in the many interviews White has done with the media. As usual, the brash UFC president didn't hesitate to share his candid opinion that Ronda was probably done. And in a new interview with Sports Illustrated, he went into the reason that pains him, and it's not about the money.
"I care about her as a human being more than the fighter side," White said. "You read the bulls**t, 'Oh man, UFC's in trouble, their golden goose!' She's not a f**king golden goose. She's a human being. And she's a very good f**king friend of mine."
"She's so f**king strong-willed. She knows what she wants and doesn't want. If she calls me today and says 'I'm done. I'm gonna wrap it and call it a career,' I'm gonna be like, 'Awesome. That's amazing. We'll plan something.' And if she calls me and says, 'I want three more fights,' she's got it. She'll make that decision on her own."
The zen of a fight promoter who has survived several changings of superstar guards? We suppose it doesn't hurt that White has over $300 million sitting in his bank account from the company's sale over the summer. But don't think that means he's considering his own end of career.
"I swear, I had a meeting with a couple of guys the other day and Freddie Roach was one of them," White told Sports Illustrated. "They said, 'The bet people are talking about right now is that you don't last a year.' I told them, 'You're f**king crazy.' Listen, people think they know me. You don't know me if you think I'm outta this in a year. I'm not going anywhere, man, I love this s**t. I love working with [new owner] Ari [Emanuel] now. And I'm into the vision."
It's going to be interesting seeing that mysterious new vision unfold over 2017. With Ronda Rousey probably gone and Conor McGregor insisting on a boxing match with Floyd Mayweather, it'll take a particularly powerful vision for the UFC to continue the upwards momentum they saw in 2016.