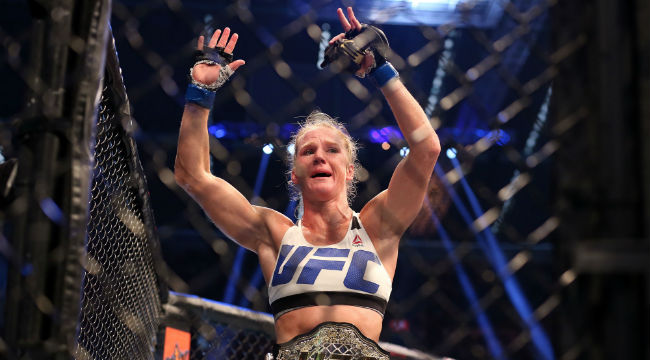 Holly Holm's devastating headkick to Ronda Rousey at UFC 193 last month was billed as one of the sport's greatest upsets. For those hoping for more of a fight, though — Rousey was KO'd in the Round 2 — a rematch is apparently on the way.
MMA President Dana White confirmed on ESPN's Mike and Mike that Rousey and Holm will meet again, though the timeline for the rematch hasn't been established.
Here's what White had to say via MMAFighting.com:
"I think that if we didn't make the rematch, me and [UFC CEO] Lorenzo [Fertitta] should probably lose our promoters' license," White said on the morning ESPN radio show Mike & Mike. "Yeah, that fight's going to happen. I don't know when, but that's the fight that will happen."

According to White, the decision is an easy one. Despite Holm's all-around dominating performance when the two met at UFC 193, Rousey's prior achievements alone warrant the rematch.

"Ronda Rousey has gone undefeated, taken the sport to another level and was beating the best women in the world in 14 seconds or 30 seconds, so she deserves a rematch," he said. "Holly agrees she deserves a rematch, and we'll figure it out."
A rematch has been discussed basically ever since Holm pulled off the victory. Holm herself even said a rematch with Rousey "makes sense." While there was some belief Rousey would not be Holm's next opponent, it's encouraging to see that a rematch will happen. It's just a matter of when.
(Via MMAFighting.com)