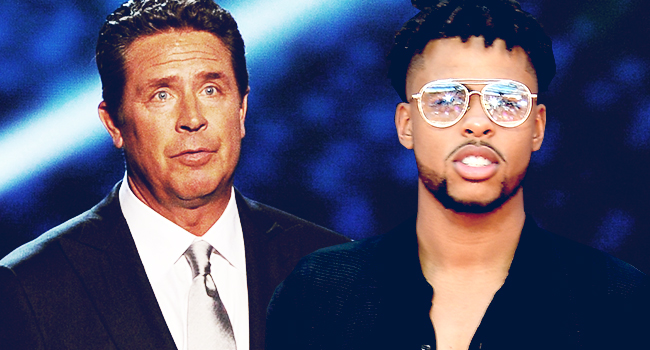 Fantasy football just continues to grow and improve year-in and year-out. Whether you auto-draft, pick your teams by colors, or do all the research and background to locate all the players you want to draft, fantasy football has become a stable in American society due to the wide variety of outcomes and its ability to bring people together.
In fact, because of the popularity and success that fantasy football has had over the past few years, National Draft Day was created, which comes every year now on Sunday, Aug. 27th.
On this year's National Draft Day, Yahoo Sports transformed a New York studio into a draft den where popular names like Dan Marino, D'Angelo Russell, and Kelly Olynyk joined in on the fun and performed their own three-round fantasy mock draft.
"I played quarterback and safety in high school," Russell told DIME. "I've never done fantasy before, so I will probably pick a lot of Buckeyes."


Russell certainly got one Buckeye in Ezekiel Elliott, who should get the opportunity to play in Week 1 after his hearing for a six-game suspension went longer than anticipated. But, Russell's other two picks were headscratching. He picked Davante Parker second overall and DeSean Jackson in the third round, both of whom were picked much higher than their grades or pre-draft rankings.
Draft expert Brad Evans weighed in on each team and graded their results. Russell was near the bottom, getting a D+ rating. But, former Miami Dolphins great Dan Marino ranked second best of the pack with a solid B grade.
Marino drafted the likes of Antonio Brown, Amari Cooper and Leonard Fournette. However, he didn't take his former position in a quarterback.
"Nobody [is like me in the NFL today], Nobody," Marino told DIME. "No. But, I'll tell you what, both Rodgers and Brady are terrific football players and those are the ones I'd go to."


Perhaps the most surprising pick by Marino was Fournette, specifically because of how early he was selected. But, Marino thinks he's going to get the ball a ton and while the quarterback situation in Jacksonville has been scrutinized, he doesn't believe it'll affect Fournette's rookie season.
"It's always about draft position in fantasy," Marino said. "You gotta know where you're drafting but obviously you want to pick a running back pretty high if you can, I wouldn't mind getting my guy in Miami Jay Ajayi. He had a great year last year and I'll certainly be looking at him this year. Then, you gotta go receiver, and if you're to take a quarterback [early] then you always got to go with a guy like Tom Brady or Aaron Rodgers, from what I'm told."
We gave Marino some late draft round advice and with that, Marino spoke highly on one Jay Cutler. He thinks Smokin' Jay may be better than many people believe and the weapons he has around him like Jay Ajayi and Davante Parker could help Cutler succeed in Marino's old stomping grounds.
The full details of the draft – plus video evidence – is on Yahoo Sports.