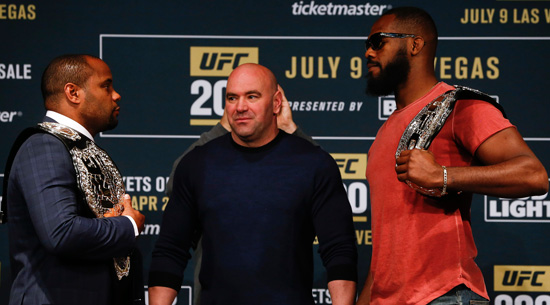 Daniel Cormier cemented himself as one of the all-time greats in early November, submitting Derrick Lewis and becoming the first UFC fighter to not only win, but also successfully defend two titles simultaneously in separate weight classes.
Cormier seems destined for a showdown with Brock Lesnar at some point in early 2019, and that could come just before he steps away from the Octagon for good. Cormier has been dead set on leaving mixed martial arts when he turns 40, and that clock strikes midnight on March 20, 2019.
But if UFC president Dana White has his way, Cormier will stick around long enough to do battle yet again with light heavyweight foe Jon Jones.

"I don't know (if Cormier's last fight will be next year). We don't know that either yet. I think Cormier's got a couple left in him," White told TMZ Sports recently.
"I would like to see Jones and Cormier fight at heavyweight but right now, Cormier's team wants him to retire right now. They want him to retire right now. I hope we can get three more fights out of him."
Jones has previously mentioned he feels he has "nothing to prove" in a third bout with Cormier, and the current double champ has also "let go" of the idea of facing off with his UFC nemesis yet again.
Should Jones beat Alexander Gustafsson at UFC 232 and Cormier defeat Lesnar whenever their showdown takes place it should reignite the conversation between the fiercely competitive opponents.
(H/T MMA Fighting)