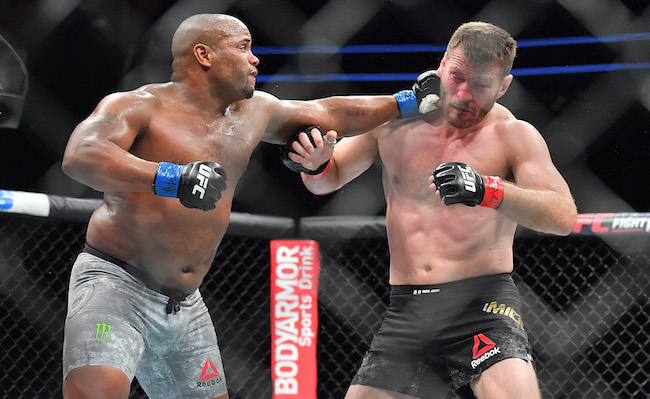 Despite rumors suggesting a matchup between Daniel Cormier and Brock Lesnar would eventually take place inside the UFC Octagon, the former WWE champion apparently has walked away from the sport altogether, retiring in a message to Dana White.
With Lesnar's sudden exit from the heavyweight title picture, Stipe Miocic is now reportedly in line for his long-anticipated rematch more than a year after he was knocked out by Cormier.
Prior to Miocic's loss, he had defended the heavyweight crown more than any fighter in UFC history, with three consecutive title defenses. Then Cormier came along at UFC 236 in July 2018, stunning him with a first-round knockout. Miocic hasn't fought since that loss, remaining on the sidelines and calling for another shot at the title. Despite other contenders, such as Francis Ngannou and Junior Dos Santos working their way up the rankings, it appears Miocic will get his rightly-deserved title fight.
Cormier recently turned 40 years old, and has been dealing with a slew of injuries that sidelined him since a win over Derrick Lewis in November. Cormier hasn't lost since 2015, when he dropped a decision to Jon Jones. He became the first UFC fighter to successfully defend championships in two weight classes in 2018, and he's intent on fighting at least once more before retiring from the sport.