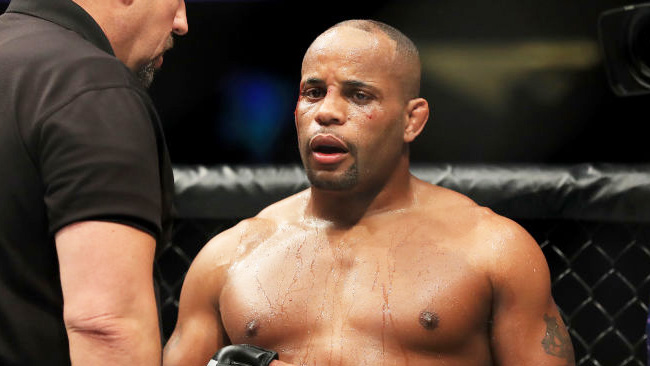 After Francis Ngannou ruined Cain Velasquez's grand return to the Octagon on Sunday night, the heavyweight contender has his eyes on wrecking what could be Daniel Cormier's last fight before retirement.
While Ngannou called out the champ in his post-fight press conference, an unknowing Cormier made it clear if Ngannou is next on his list, he'll mow him down just like he has his last three opponents.
"But Francis Ngannou, who didn't ask for a fight, maybe later he will, and if that's something we decide we want to do, then that's what I'll do," Cormier said on ESPN Sunday night, according to MMA Fighting.

"I won't go fight Francis Ngannou. I will beat Francis Ngannou."
Before anyone gets lost in the potential build of a Ngannou-Cormier title fight, UFC president Dana White was quick to quell the hype, announcing Ngannou is not currently next in line for a title fight.
"Cormier's hurt right now and we have another fight lined up for Cormier first so, we'll see how this whole thing plays out," White said on ESPN, per MMA Fighting.
As for who that opponent would be, White refused to comment.
"(Cormier) is not healthy yet so I would never announce a fight without it being done," White said. "It makes no sense. I don't even know when Cormier's gonna be ready."
Whether Ngannou gets Cormier next, a return match against Stipe Miocic or possibly another shot at Derrick Lewis remains to be seen. What's clear at this point is that Ngannou appears to be back.

His loss to Miocic in January was about as one-sided as a bout can get. Ngannou couldn't defend Miocic's takedown attempts and he spent most of the title fight on his back. A clearly rattled Ngannou followed that up with another miserable performance against Derrick Lewis, suffering a second decision defeat in as many opportunities.
Ngannou seemed to take some reflection time after his losses and bounced back in November, defeating Curtis Blaydes by TKO in just 45 seconds. He followed that up by making quick work of Velasquez with an uppercut, left hook combo that ended the two-time champ's night.
UFC color analyst Joe Rogan took note of Ngannou's dominant return to form on his podcast, calling him the scariest of all-time, per For The Win.
"He's so big, dude," Rogan said. "He's so big and so dangerous. He's incredible. Cain is one of the best of all time, that's how good Ngannou is. This is the scariest guy I've ever seen."
Whether it's Ngannou, Brock Lesnar or Micoc next for Cormier, the champ has his work cut out with a handful of headhunters headed his way.