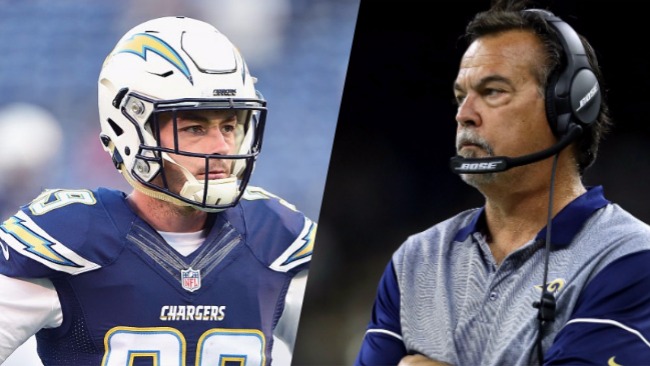 As a head coach of an NFL team — or any team for that matter — it's always good to study up on your opponents before you face them. I mean, coming up with strategies to beat the other team is literally the biggest part of being a coach. Now, people are wondering if Los Angeles Rams head coach Jeff Fisher knows that:
The New England Patriots' running backs, for the record, are James White, Dion Lewis, and LeGarrette Blount. Danny Woodhead hasn't played for the Pats since 2012 and is currently doing a whole lot of nothing on the Chargers IR. While Fisher took time to praise Blount (a Titans draft pick he ended up cutting before the regular season even started back when Fisher was at Tennessee), his comments on the other two were … welp:
I've been impressed with Brandon and what he's done out of the backfield. You've got to deal with him, in addition to Danny. You've got playmakers all around, so we have to play sound defense. – via Patriots.com
Okay, okay, that's a little better. Brandon Bolden is a running back, and he does play for the Patriots. He's getting warmer! I mean, sure, Bolden doesn't see much play time, but he's a huge standout with … um … two catches totaling 15 yards, and one rush for four yards.
Maybe Fisher is just playing mind games? Sure, we'll go with that excuse and hope that someone who has been coaching in the NFL this long isn't this pitifully unaware of what's happening outside of his own bubble of football mediocrity.
(h/t NESN)