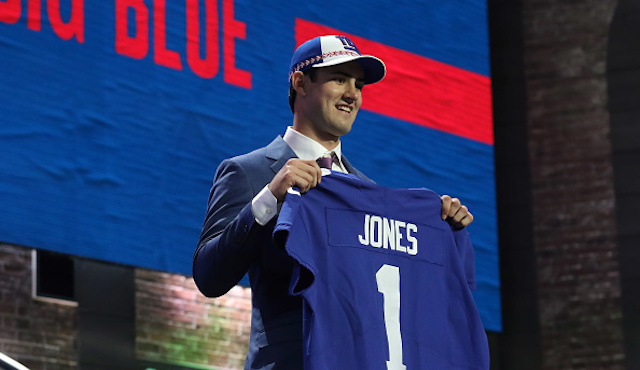 The New York Giants took their presumed quarterback of the future when they selected Duke's Daniel Jones with the no. 6 pick in the 2019 NFL Draft on Thursday night. It was pairing that had gained steam in recent weeks, but that didn't make it any less surprising that general manager Dave Gettleman would actually select Jones, with Ohio State's Dwayne Haskins still very much available, looking incredibly bored at a bowling alley.
The reactions to Jones' selection dominated the Internet, from Joe Budden crumpling to the ground in agony to Mina Kimes actually losing her mind. But there's substance behind the shock. Jones' college statistics place him amongst an unflattering group of peers, and don't exactly bode well for his NFL prospects.
This isn't to say Jones can't buck the trend, but it makes his selection as Eli Manning's successor all the more curious, and Gettleman's quotes about the Giants process of identifying Jones as their man don't exactly inspire confidence.
Forget the fact that Gettleman, an NFL general manager, thought Dwayne Haskins played in the Big 12. What should be more concerning for Giants fans is that Gettleman says he fell "full bloom in love" with Jones after watching him play three series at the Senior Bowl. Three. But Gettleman's presser only gets more concerning from there.
Gettleman probably watched more of Jones than just three series in Mobile, Alabama, before making the decision to draft him. But his explanation only further feeds into the narrative that the Giants don't really have any plan at all as they move into a post-Eli Manning future. You don't draft a quarterback at No. 6 overall to have him sit for three seasons, and if you do, you'll be fired long before you get to see if your selection bears any fruit.
If Gettleman truly believes Manning has 2-3 decent years left in him, then taking a quarterback you probably could've gotten much later in the draft instead of adding weapons for Manning doesn't make a whole lot of sense from a football standpoint. The Giants remain stuck between wanting to rebuild and fight for the playoffs, and Gettleman remains steadfast that they can do both.