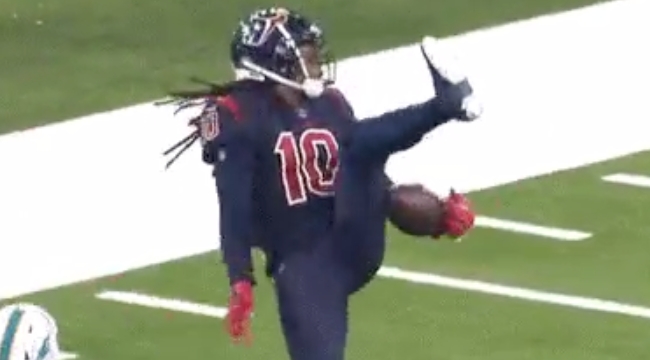 There is nothing in football more cool than a catch that blows your mind. As such, there are few things in football that are more heartbreaking (well, outside of, like, injuries, which are bad) than when a receiver does something wholly bonkers, but it gets called back because of silly things like "penalties" or whatever.
What I am basically trying to say is that DeAndre Hopkins did something really super cool on Thursday night, but thanks to offsetting offensive pass interference and defensive holding penalties, the play was wiped out. As such, Hopkins will not get the credit for hauling in a pass from Deshaun Watson in a way that can only be described as "the football version of when a basketball player goes between his legs for a dunk." Behold:
Not only did Hopkins reel this ball in with one hand, but he figured the only way to secure it was to hold it up against the back of his leg and bring his other hand in as he was hitting the ground. Despite the fact that, again, there were penalties, this should be a catch. Officials in football should be able to overrule when there are obvious rule infractions because cool stuff happens.

Anyway, as I was wrapping up the post on Hopkins, the Dolphins decided to go out and do what can only be described as a 2018 version of the Immaculate Reception.
To be clear: Jakeem Grant makes a good play on the ball to secure a throw from Brock Osweiler that was a tad high, only he got lit up. The ball went soaring into the air and right into the outstretched arms of DeVante Parker. It didn't end with a touchdown like the famous play from the 1972 playoff matchup between the Steelers and the Raiders, but it was still quite impressive.