There are few, if any fighters who embody the fundamental concept of mixed martial arts like Demetrious Johnson. Widely considered to be the pound-for-pound greatest fighter to ever step foot in the cage, the man known as "Mighty Mouse" has held dominion over the UFC's flyweight division since the day it was installed, defending his title with the honor and resilience of a knight among men.
In For Honor, the upcoming game from Ubisoft launching February 14th, you get the chance to join one of history's three most legendary factions — deadly Samurai, ferocious Vikings, and bold Knights — in the ultimate battle for combat glory. The Knights in particular rose to prominence as one of the world's fiercest fighting force thanks to a lifetime of training, and like those medieval warriors who came before him, Johnson is a lifelong martial artist who has utilized a blistering combination of speed, strength, skill, and honor to defeat all of those who have dared challenge his crown.
It was in Johnson's first UFC fight, after all, that he was baptized in fire. Paired against Japanese MMA legend Norifumi "Kid" Yamamoto, it was clear that Johnson would be forced to either meet the rising tide or drown beneath it. Fifteen minutes later, we had our answer. In a near shutout of a performance, Johnson controlled and punished Yamamoto with his wrestling based attack, setting the precedent for a career filled with one-sided victories.
At first glance, it might not seem like any modern day martial artist would have much in common with these metal-clad badasses of yore — the latter were mainly glorified for their skills with swords and bows, for starters, which have yet to make an appearance in the Octagon — but one needs look no further than the full-contact feudalism of M1 Medieval to see the similarities that the two shared. In the case of Johnson, the parallels boil down to two main techniques: the parry and the takedown.
The parry, or dodge, is the basic act of avoiding an opponent's strike in order to land one of your own. It is a known universally among all forms of combat sports, be it fighting or fencing, and is a huge part of what has made Johnson such a success in the UFC. Simply put, the man is nearly impossible to hit (one of the least hit fighters in UFC history, in fact), and his blinding speed has left even skilled strikers like John Dodson and John Moraga swinging at shadows more often than not. Not unlike a skilled knight, it has been Johnson's defense that has served as his greatest offense, allowing him to cut in and out and land strikes while staying mostly unblemished.
But the takedown is and has always been where Johnson has thrived. To date, "Mighty Mouse" has scored an incredible 74 takedowns in the UFC — the third most in promotional history — while avoiding 63% of takedowns attempted on him. In his "Performance of the Night" earning victory over Kyoji Horiguchi at UFC 186 alone, Johnson managed to hit 14 takedowns over the course of the five round affair. You might be thinking, "Just when exactly did takedowns play a role in a duel between knights?" And to that I say, BEHOLD.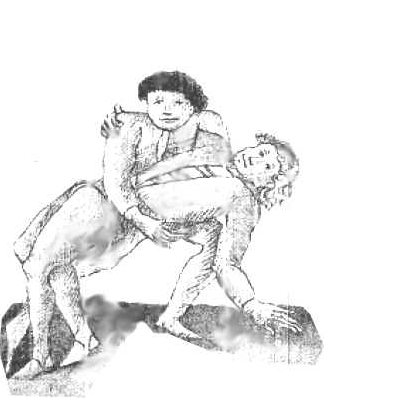 What you see above is one of many drawings taken from a medieval book on hand to hand combat, demonstrating what can be best described as a jujitsu (yes, JUjitsu) style sweep takedown. It turns out that many of the unarmed techniques that knights were taught in their training pair closely to the teachings of jujitsu — most notably, in the takedowns and armlocks like the one seen above. Should a knight have found themselves swordless, they were still very capable of vanquishing a foe with their own two hands, an accolade that Johnson has specialized in for no less than a decade.
Just as a knight's skillset was constantly evolving to include everything from unarmed combat to dance, chess, and poetry, Johnson has likewise become one of the most dangerous fighters in every aspect of mixed martial arts. Initially derided by some as a one-dimensional wrestler when he first entered the UFC, Johnson quickly adapted to meet the demands of an ever-evolving sport, scoring highlight reel knockout victories over Joseph Benavidez and Henry Cejudo and submission wins over Chris Cariaso, Horiguchi, and Moraga. He's also one of the followed Twitchers in the UFC, which I like to think falls into the modern realm of poetry and/or chess as far as extracurricular skills go.
Had Johnson been born into another life, or perhaps another era, I have no doubts that we would be reading about him in the history books today as a champion of the Middle Ages. Starting on February 9th, you'll have the chance to fight alongside him and his fellow knights, or against him, for free in the For Honor Open Beta.