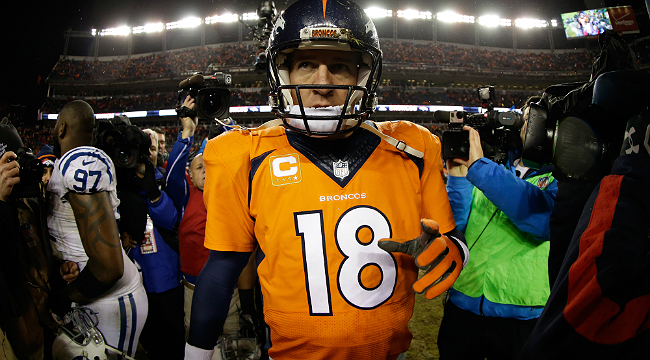 Last Season: 12-4, early favorite but limped into the playoffs to an unceremonious exit

Key Acquisitions: Owen Daniels, Shane Ray, Gary Kubiak
Key Losses: Julius Thomas, Jacob Tamme, Pot Roast
Floating in the ether: Wes Welker
The Broncos were an easy pick for Super Bowl contender last season. Despite the disaster of a Super Bowl that gave us legions of insufferable smug fans that call themselves '12s' unironically, the Broncos retained almost everyone important from their record-breaking season. They started off in much the same way, and Peyton entered the record books again by breaking Brett Favre's TD record. It looked like the Broncos would once again be the mostly unstoppable offensive juggernaut.
Then something strange happened. Peyton stopped passing the ball. CJ Anderson emerged as a playmaker and the Broncos kept running the ball. This was not the same team of years past, and people began to wonder if something was wrong with Peyton. Turns out, there was something wrong with him! He's like 500 years old! Actually it was his hamstring, but we wouldn't find out till the season was over how bad it was. It was almost as bad as your average Papa John's pizza.
The Broncos looked weak but still capable until the playoff game against the Colts, in which they decided that taking as big a dump as possible was the way to go. The offense couldn't do a single thing to Indy, whose defense was mediocre at best. The Broncos were kicked out of the playoffs in shame, not even managing to be entertaining in their final game. Elway promptly went nuts when Tebow fans pointed out that technically the Teebster has a better winning percentage in the playoffs as a Bronco than Peyton Manning. He canned John Fox and hired retread Gary Kubiak.
But it's another year, and the seams are starting to look mighty thin. Peyton has grown another brow on his ever expanding forehead.
He lost one of his best weapons when Julius Thomas left, and the once great Wes Welker is sitting in a white room with pudding for brains. The window is closing on the Broncos, and it's closing fast. This might be the last year before Peyton is officially done, and the horses stumble back into mediocrity.
I decided to ask my good friend Spilly what he expected out of the Broncos, and this was the exact exchange:
Me -"Hey so what do you think of the Broncos this year?"
Spilly – "They Butts"
Since that didn't work out, I decided to ask Hulk Hogan.
WELL LET ME TELL YA SUMTHIN MEAN GENE ALL THE BRONCOMANIACS KEEP ASKIN THE HULKSTER BROTHER THEY KEEP ASKIN WHAT DO YA THINK ABOUT THE 2015 DENVER BRONCOS DUDE WELL LET ME TELL YA SUMTHIN YOU'RE WATCHING PEYTON'S LAST RIDE BROTHER IT'S DO OR DIE FOR THE PEYTON MEISTER BROTHER AND IF YA DON'T THINK HE'S GOT THE WILL AND DESIRE TO HOIST UP THE LOMBARDI RIGHT IN FRONT OF 700000 SCREAMIN BRONCOMANIACS AT JED YORK STADIUM IN SAN ANDREAS WITHOUT THAT JABRONI JOHN FOX STANDING IN HIS WAY BROTHER THEN YOU'RE PROBABLY ELI MANNING BROTHER
Whatever you say, Hulkster
(Hulk post actually written by Manas Pradhan)