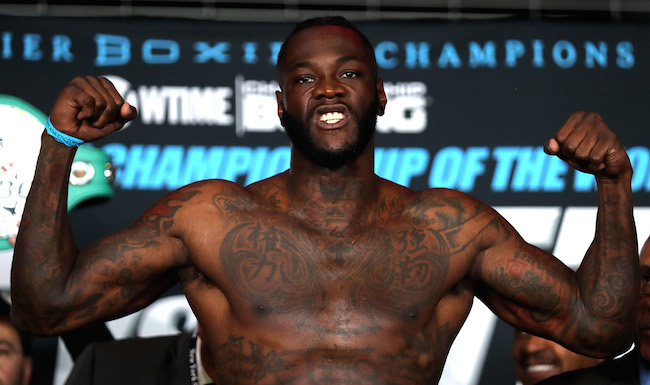 Deontay Wilder (39-0-0, 38 KOs) wasn't supposed to step in the ring on Saturday night against Bermane Stiverne (25-3-1, 21 KOs), but after his original opponent Luis Ortiz failed a drug test in the buildup to their heavyweight rumble, the WBC champion needed a new opponent.
In stepped Stiverne, who would finally get his rematch with Wilder after losing the WBC belt to the dominant knockout artist from Tuscaloosa, Alabama, back in January 2015. In their first bout, Stiverne became the first (and remains the only) Wilder opponent to make it the full 12 rounds, as Wilder took the belt by a lopsided unanimous decision.
Wilder came into Saturday night at the Barclays Center in Brooklyn looking to take care of unfinished business with Stiverne and put him out this time. Wilder told UPROXX Sports he'd put Stiverne down before the end of the fifth round, which was apparently giving his opponent too much credit, as the fight never even saw the second round as Wilder destroyed Stiverne with three knockdowns en route to a TKO victory.

Stiverne looked slow and after the first knockdown, seemed ready for the fight to be over. Wilder kindly obliged with a barrage of absolute haymakers, sending Stiverne to the canvas in the corner and then, after Stiverne begrudgingly stepped back toward the champ, unleashed another flurry of wild shots on the ropes that knocked him out cold causing the ref to step in.
It wasn't a fight anyone wanted, but Wilder got his revenge for the one blemish on his otherwise perfect knockout record and it should pave the way for a unification bout between Wilder and British star Anthony Joshua, something the heavyweight division desperately needs. Until then, most of Wilder's fights will likely look similar to this, with him being completely unchallenged and looping massive shots in until his opponent crumples to the mat.