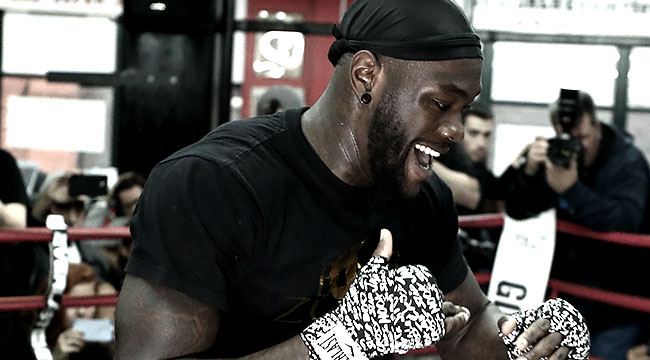 Deontay Wilder's WBC heavyweight title reign will come full circle on Saturday night at the Barclays Center in Brooklyn when he takes on Bermane Stiverne. The bout, which can be seen on Showtime with the broadcast starting at 9 p.m. ET, will be a rematch of their fight from January 2015 in which Wilder (38-0-0, 37 KOs) took the belt off of Stiverne (25-2-1, 21 KOs) in a unanimous decision.
While Wilder was dominant in the fight, it remains the only time the champ hasn't knocked out an opponent, so heading into his sixth title defense, there's an air of unfinished business. However, there's more that makes this bout intriguing. Wilder wasn't supposed to fight Stiverne. He was supposed to go toe-to-toe with Luis Ortiz (27-0-0, 23 KOs) in a matchup of undefeated knockout artists that fell through when Ortiz failed a drug test.
It's the second time Wilder has seen an opponent get pulled off of a fight for testing positive for performance enhancing drugs, as his mandatory bout in Russia with Alexander Povetkin last year fell apart the same way. This time, Stiverne was ready to step into Ortiz's place, however, and Wilder will get his second bout of the year (and second bout since tearing his biceps and breaking his hand against Chris Arreola).
This week, Wilder spoke with UPROXX Sports about coming back from injury, taking care of unfinished business with Stiverne, the frustration of seeing opponents fail drug tests, a potential unification bout with Anthony Joshua, why he's gotten into fashion, his prediction for when Stiverne goes down, and more.
How did camp go and how are you feeling heading into Saturday night?
Everything is going well, man. I'm doing good. I'm feeling great, I can't wait for Saturday night. It can't come any sooner. I woke up this morning thinking it was Wednesday. It's only Tuesday.
What is it like for you the week of a fight? You always seem so eager to be in the ring. How do you kind of calm yourself and make sure that you're taking the proper steps the week before to get ready and stay patient?
I think for me, because it's different for different fighters, you know a lot of fighters get into superstitious stuff and certain things they want to do. Some want to be alone, some, you know what works for you. What works for me is just being me, silly, being around people whether I know them or not, just enjoying life, steered in a positive light, at peace. Then when I get closer to the fight, that's when I really just zone in to what I need to do. Although, during the week, I'm still focused, like now. Although I'll talk to the media and traveling, I'm 100% still focused, but I'm at another focus. When I get closer to the fight, I'm going to be super focused. I like the way I am. God definitely didn't make a mistake when he made me.
You're now in your second fight back from the biceps injury and the broken hand. What did that Washington fight prove to yourself and the rest of the boxing world about you coming back?
It really doesn't, to be honest, it didn't prove nothing to me because once I obtained the belt I always had injuries. Even when I won the belt I had an injury. I broke my hand in third round. I ruptured my eye socket and I couldn't see in that fight. Obtaining the belt and anything after it, I've always fought through pain and injuries. That's just me, so beating Washington, coming off injuries, it was nothing that I proved to myself. It was something I already knew that I could do from previous fights and stuff like that, with experience.
Every time you go through something in that ring, or even through life, it should be a lesson, and experience you can take from that. Whether it was good or bad, you learn, and you apply that to your life, that's how people become wise through knowledge.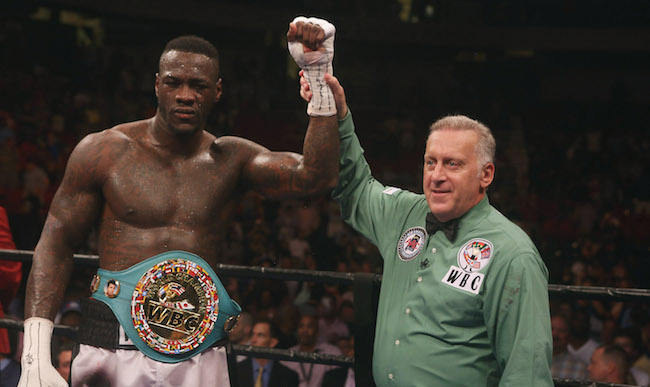 You talk about those lessons. The last time I saw you and spoke to you was your first defense against Eric Molina in Birmingham. What are some of the lessons you learned, and what are the biggest areas of growth and improvement for you as a fighter since that first defense now going into your sixth?
Correct, my sixth consecutive defense. In the things I've learned over the time, especially having this title, that when guy's fighting me they bring their all. There's just something about me that guys just want to be A-1 when it comes to me. I understand it now because I got a big right hand. I'm blessed with, I don't have to do much, and I can still obtain that. And that's just a blessing to me. I sit back and wonder, wow, like I've always been like that though. I've always been the small guy but can do whatever the big kids can do, something like playing football and stuff like that.
That's one thing I definitely learned; these guys come aggressive. That's why I'm always speaking positive about myself. I'm always serious about what I say because I know these guys are going to be serious when they come. When that bell rings, no matter who they were before, no matter what their record is placed. They're going to come and fight.
Another thing, I'm very smart in the ring, so many times, if a guy hits me with a good shot, it's never there no more. I always take it away. And if you ask my opponents, they'll probably tell you the same thing, I cut him off from getting the same shot again. 'My power shot wasn't there no more, he took it away.' Because I'm very good at examining the person and reading him and going off, there's a lot of secrets in the ring.
I remember one of the things from that fight that was, in talking with the trainers afterwards, one of the things you worked on in that fight was trying to move in that left hand. How do you feel you've grown as a technical fighter and kind of having more than just that right and being able to complement that right hand with more diversity in your punches?
I've grown a lot throughout the years, not only with that, but even with the jab. I can't even count the numbers of ways there is to throw a jab. It's more than just one particular way of throwing a jab. It's more than one particular way of moving your wrist as you throw the jab. I'm very accurate. I've never seen anybody like me that can throw a punch at a certain angle or degree. No matter where the head goes, it will follow it like a missile on a mission to hit its target. It's like an automatic thing, no matter how I throw it, it's going to come and land.
Even with my movement, I'm agile, I'm mobile, I'm hostile. Like, everything about me, my athleticism is my defense. My athleticism, those things intensifies itself and increases the momentum of how I can use it. I think people misunderstand me a lot because of my style, because they've never seen it, and when others make excuses for me they want to look at that old-school stuff but we gotta leave that alone. We can't dwell in the past no more, it is what it is now.
This is the new generation. Look at all these other sports – football, basketball, baseball – all these, any sports you can name can see from past history to now, it's a different game. They're doing different things, they got different technology, different things that make your body increase and do this, do that the proper way. It'll never be like it is, but people always dwell back on the past because of the excitement of the sport, and the sport is not that exciting that it used to be back in the day because we got so many other sports to compete with.
You're facing Stiverne again, the one guy who's made it to the final bell. Is there any feeling of unfinished business and making sure that this time stopping the fight?
Oh man, yes. This is what made the fight exciting. That's why people should come. People should watch, come November 4 at the Barclay Center in Brooklyn because he was the only man to escape. But now I caught him, and now it's conviction time for him. And he's gonna get the electrocution. [laughs] That's why people should watch, you know, he's the only one to survive, and now I got unfinished business. I can't wait to get in that ring. I can't wait, it's going to be fun while it lasts. It's sad that he has to be the one that only fought one time out of three years, to be able to fight against a guy that's very active with this being my sixth consecutive title defense, you know. But he wanted it, and he got it.
You're obviously facing Stiverne because Ortiz failed the drug test. It's the second time you've lost a fight due to an opponent failing a test. How frustrating is that? How disappointing is it? When you look at the sport of boxing, how hard is it to not have those curiosities when you've been through this twice now?
This is very tough. It definitely is something that is difficult to handle if your mind is not strong. Nobody wants to see where you trained so hard for so long, so many months of sacrifice your time, your body, your mind, your spirit and go through all those things just to come up empty handed. Whether it's traveling to a whole 'nother country or fight here at home. As a fighter I don't know of any event that's worth doing it and putting the time into getting your body to a point where you have to perform and somebody cheated. Nobody wants to see that, nobody wants to go through that. It's definitely a frustrating thing that happens, but only the strong survive in life, period.
We must learn how to adjust and get back up and get back in there and try it again. Try it again. Over, you know, but there's only so many times that we can go through things like that because if it continues to happen it makes you feel like the sport ain't where you need to be. It makes your drive and love starts to fade away. That's what it was starting to do for me. My love for it started, the drive for it, started to fade. That's why I made the statement if Stiverne beats me, I'm out. I'm outta here.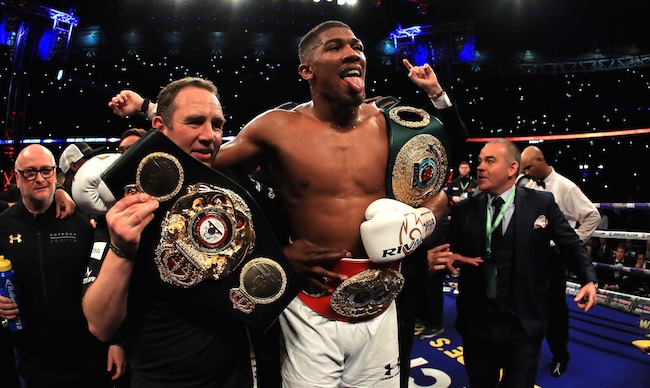 When you look at the heavyweight division, I think everybody, I know you're focused on Stiverne and everything, but I think everybody looks big picture at an eventual collision with Anthony Joshua. He fought last weekend. What do you think of that potential bout and do you think that's the type of thing that the heavyweight division needs, that kind of clashing of the titans, two young guys that have that knockout flair?
Yeah, most definitely. These are exciting times for the heavyweight division. A lot of things have happened, the belts have been moved around, and every other belt that has been moved around except the WBC. The WBC has been in one man's hands for almost three years, and it's going to continue to stay. That's why it's going to be exciting times. That's what the world wants to see. They want to see, and I think the more and more I've talked about unifying this division the more and more that it clicked to a lot of people's heads and now they're thinking in their mind that we need to unify.
There need to be one champion and that's what people want. You know what I mean? Because the heavyweight division's too small. It's too small to have all these different belts and all these different fighters from different parts of the world to have. We can't … I think it would benefit the heavyweight division tremendously because we can't go down that way, we can't just unify and then drop the belt, then go up for another weight. There ain't nowhere to go, and I know there's a super heavyweight division coming up, but come on. I think that's going to be better for the heavyweight division to have one champion, one face, one name – Deontay Wilder.
I know outside the ring you've got a lot of interests, you're a stylish guy, which is not necessarily always the case with heavyweight champ. When did you start getting into the fashion stuff, and what are you favorite, have you bought anything recently that you've especially liked?
Getting into fashion is crazy, man, because I really didn't care too much about certain things or whatever. It's materialistic for me. And it still is now, but it's just now that fashion is a statement. A lot of people look at me as the champ, and they expect certain things that look at a lot of qualities of a champion. A champion is supposed be able to talk well, look good, sound good. All those different things. It's an image that you have to have. That's what people look at these times and days, just sad, but certain things that doesn't matter that don't even make you … they don't even really make you who you are as a fighter.
These things don't make you a fighter, but people expect certain things and see certain things and it makes it look good. I think I owe all that to my fiancé. She's was a big part of that, and now, you know, I come to impress. We buy stuff all the time, so I don't think I have anything that ain't my prized possession.
Are you going to come with some special trunks for the fight on Saturday?
Yeah, for sure! The whole nine, you know, just come into the ring. You know, I like to dress in suits and stuff like that, so that whole thing is going to be a fashion statement, trust me.
Finally, do you have a round prediction for us? When is Stiverne going down?
I think he's going five or under.
I don't think it's going to go past that. I'll be surprised and if it do, then they should throw the towel in because it's going to be a brutal beat down on him. You love things on the fighters, they hold their pride too much. He held his pride for the first one and it cost him almost his life. You know, he was in the hospital for several days.
They say he was dehydrated, but that don't exclude the fact of all the other things – concussed and pissing blood and all those things. So you can say what you want and have all those knots on your face. We gotta keep in mind that the body is not meant to be hit, especially the head. The head is not designed to be hit and knocked around, you know. I feel sorry for him when he's just now turning 39, I feel sorry to see him at 45.
You know, may the best man win and I can't wait. I can't wait til November 4. It's gonna be down. I would say I wish him all the luck but I don't wish him nothing at all. But to show up at this fight and get this beat down from T-Town.
The more lopsided result on Saturday night, Alabama-LSU or Stiverne-Wilder?
Wilder-Stiverne, come on now, of course. That's going to be an easy one. Gonna be an easy one. But you know, I'm from Alabama so I definitely support them and we definitely looking for another national championship.