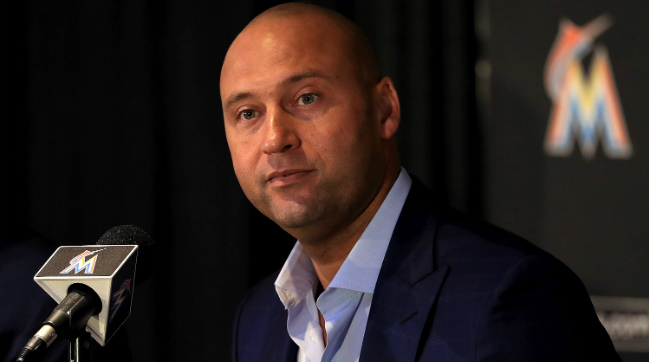 Derek Jeter's tenure as a member of a baseball team's front office has gotten off to a rocky start. Jeter is the chief executive officer and part owner of the Miami Marlins, whose time in the organization has included trading away Giancarlo Stanton to the New York Yankees for next to nothing, angering two of the franchise's other young building blocks, and maybe running short on money.
So Jeter, ever the smooth customer, decided he would try an act of goodwill on Tuesday night by holding a town hall meeting with some Marlins season ticket holders. Now, you and I know that is a bad idea, but Jeter probably honestly thought it would be good for them to blow off some steam.
As it turns out, Jeter learned that angry Marlins fans can be as harsh as those dang sabermetrics folks who think "being able to go to your left to field a ground ball" is a skill shortstops should have. Chief among them was Miami's most noticeable baseball fan, Marlins Man, who really let Jeter have it.

Somehow, Marlins Man made this thing work out so that he got a promise from Jeter about throwing out a first pitch someday.
Elsewhere during the event, one Marlins fan cried, and Jeter didn't exactly handle the moment tactfully at first. Eventually, though, he was able to turn on the charm.
We also got a car-related analogy and an older fan saying they may not be around long enough to see the team become a contender.
And like every Marlins event that has happened since 2002, someone felt the urge to mention how much they disliked former owner Jeffrey Loria.
There is absolutely something admirable about a much-maligned member of a team's front office getting face-to-face with fans and letting them vent their frustrations. Still, this seems like this might not have been Jeter's best idea.