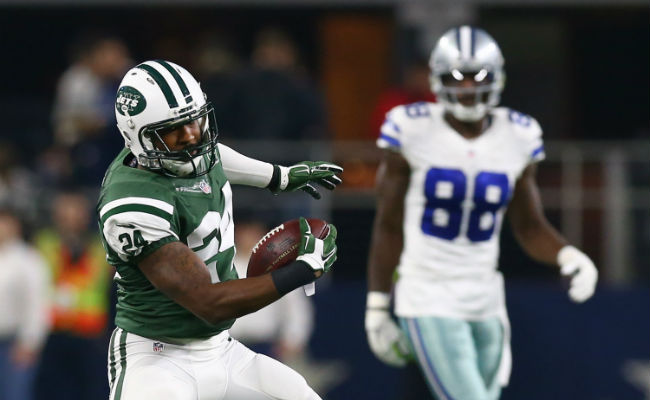 Dez Bryant wants Darrelle Revis to come play for the Dallas Cowboys. The Cowboys wideout tweeted at the free agent cornerback on Saturday, pleading with him to join the 'Boys in Arlington this upcoming season. Some say Revis isn't the player he once was, which is generally true because the passage of time is inevitable and every athlete eventually declines.
Still, that doesn't mean Revis couldn't help the Cowboys defensively. Bryant sure seems to think so, and he made a very public display of affection for the cornerback on Saturday.
It was almost polite, really. Asking "Dallas?" first before laying out his case.
Revis turns 32 in July, which basically means he's an elderly man in football years. But elite players have longer careers than most, and he's played for the New York Jets, Tampa Bay Buccaneers and New England Patriots before returning to the Jets the last two seasons.
While Bryant's overtures seem genuine, it's unclear if the Cowboys actually are interested in the cornerback. They've already seemed to invest in the position this offseason, signing Nolan Carroll in free agency and drafting three corners (Chidobe Awuzie, Jourdan Lewis and Marquez White) and safety Xavier Woods in this year's NFL Draft.