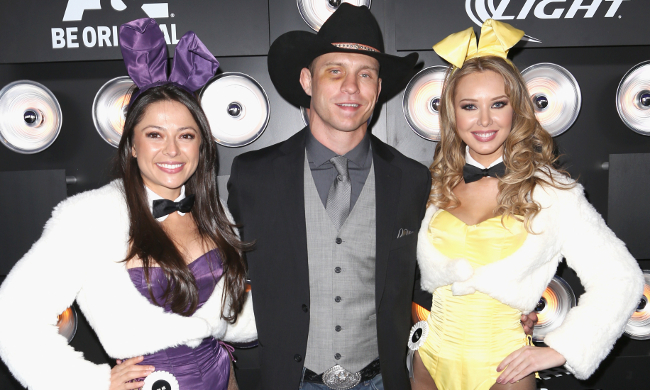 Donald Cerrone marches to the beat of his own drum. And usually, the beat of his drum is him punching dudes in the head then clanking empty beer cans off the wall and into a garbage bin.
Cerrone is the definition of a fighter. The closest person MMA has to "Stone Cold" Steve Austin, Cerrone is only happy when he's downing light beer and concocting his next extreme adventure. From wild wake-boarding outings the week before an important fight, to bull riding and skydiving, if it provides a thrill, Donald Cerrone wants to sign up. Even if he's putting his life on the line.
Back in 2012, two weeks before he was scheduled to fight Jeremy Stephens, Cerrone took a spill off a near 60-foot jump and mangled his insides:
"I was racing some motocross and I wrecked real bad and just kind of spilled my guts out," Cerrone said. "They had to take a bunch of my intestines and part of my stomach. What happened this time is, my stomach basically rolled around the intestine. Man, talk about pain. It was like someone was stabbing me. Oh, it was so brutal. I had to go to the ER, and basically they had to empty all of my intestines out and then rush water down my stomach and try to get it to unspin, kind of like a garden hose. If you have a kink in the hose, you run water and the pressure will cause it to unravel. It worked, so thank God."
He went on to beat Stephens by dominant unanimous decision, and continued his wild antics. Fast forward to 2015, and he's facing Rafael Dos Anjos for the UFC lightweight title at UFC on FOX 17. Waiting for Dos Anjos to get healthy coming off a knee injury has forced Cowboy to take his longest break from fighting in over seven years. So he's been busy as usual:
"I took up scuba diving, and my next big thing is BASE jumping. I spent a week in Orlando getting certified for that, so after this fight, I'm excited to see Cowboy in his wingsuit."
And if you think UFC President Dana White is sweating with his budding star and potential champion constantly putting himself at risk, you can think again:
"Me and Dana have a pretty good understanding. He just kind of lets me be me. I've never pulled out of a fight, never not showed up to fight, so injured or not, I'm coming. It's a relaxed intensity I've got to live my life in."
If it works for Cowboy, it works for Cowboy. But one things for sure – this kind of lifestyle isn't for everyone.