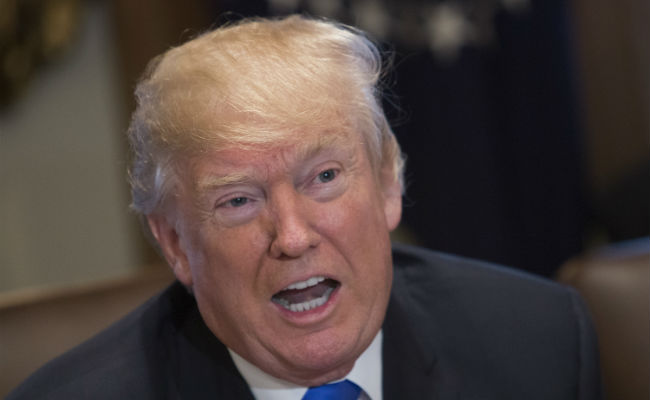 Donald Trump is reportedly going to Atlanta on Monday to make an appearance at the college football National Championship Game. Reports broke on Wednesday that the President of the United States will travel to see the Georgia Bulldogs take on the Alabama Crimson Tide in the title game, the first major sporting event the 45th president will attend during his presidency.
Perhaps Trump just wants to take in the excellent customer service at the Atlanta airport Popeyes or get himself some Chick Fil A. Or, perhaps, he's a huge Crimson Tide fan and wants to see Nick Saban ruin Georgia much like William Tecumseh Sherman did not so long ago. But either way, he's in.
Trump did not attend the Army/Navy game earlier this year, as presidents often do, but it appears the allure of Georgia winning a title in its home state is enough for Trump to pay the game a visit this year.
The Atlanta Journal-Constitution reported Wednesday that three people with knowledge of the situation say a trip is in the works, and they provided more details about who Trump will visit with at the game.
He is set to be hosted by Nick Ayers, a Georgia native who is Vice President Mike Pence's chief of staff, and his wife Jamie Ayers. First Lady Melania Trump is also expected to attend the game, which will be held at Mercedes-Benz Stadium under stepped-up security.

It's not immediately certain whether two other top Trump allies in Georgia – Agriculture Secretary Sonny Perdue and U.S. Sen. David Perdue – will join them.
White House Press Secretary Sarah Huckabee Sanders congratulated both Alabama and Georgia on their National Semifinal wins in an address on Tuesday, noting both came "from two great states, both in the heart of Trump country." As the Journal-Constitution noted on Wednesday, however, Democrat Doug Jones won a U.S. Senate seat in December over Republican Roy Moore, who Trump endorsed.