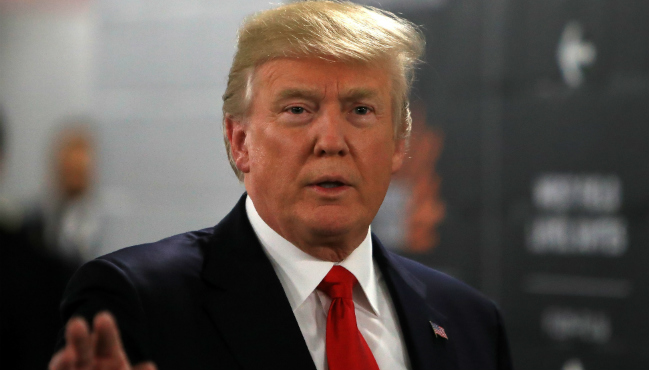 The College Football Playoff National Championship Game took center stage in the sports world on Monday evening and, given the stakes, that wasn't a surprise. While the NBA rolled out a full slate, Jan. 8 belonged to the college gridiron and, before kickoff, things got interesting in a hurry.
President Donald Trump made his way to Atlanta for the festivities. While he was not expected to appear on ESPN during its broadcast of the game, the president did head onto the field to be present for the national anthem.
Prior to his arrival inside Mercedes-Benz Stadium, there were plenty of issues with fans attempting to get into the building. A number of folks blamed Trump (and the presence of the Secret Service as the primary security force) for issues with the lines.

There were some theorizing as to why both teams remained in the locker room for the anthem festivities, although that is par for the course at the college level.
In general, though, there was plenty of backlash for the mere presence of POTUS.
Trump's cameo caused one Alabama football player some unhappiness, as Crimson Tide running back Bo Scarbrough appeared to express his discontent about the president taking the field. (A warning that Scarbrough used NSFW language.)

There were also some who believed Trump struggled with the words to the anthem — we'll let you decide whether that's the case, as ABC News recorded a video of him singing along.
While the halftime show felt miles away, there was some looking ahead to the performance of Kendrick Lamar and what may transpire. In addition, the crowd at Lamar's concert (taking place outside) didn't appear to enjoy the pregame choices.
Politics and sports are mixing in ways never before seen. But, at college football's biggest game in Atlanta on Monday, this went to a new level.
Have you checked out the DIME Instagram?