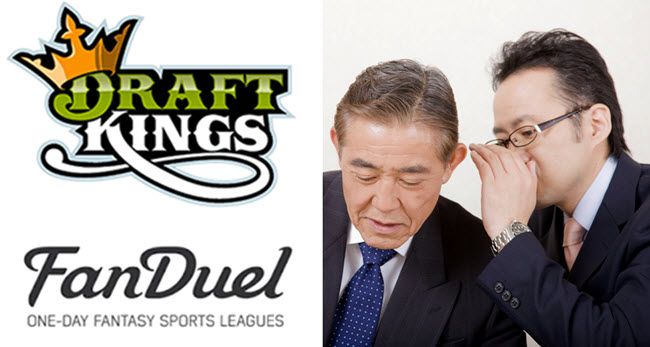 It looks like the two largest daily fantasy sports websites may be in trouble. According to a report by the New York Times, a DraftKings employee won $350,000 in a week on FanDuel due to "inadvertently releasing data before the start of the third week of N.F.L. games," which the Times equates to insider trading.
The two companies – which are considered the leaders in daily fantasy sports, move around billions of dollars a year through their games, and have partnerships with multiple teams, leagues, venues, and organizations – prevent their employees from playing on their own sites. However, these sites have no rules about their employees using other sites, meaning that a situation like what happened with the aforementioned DraftKings employee isn't against any company rules.
In this case, the data that was leaked by the DraftKings employee, Ethan Haskell, showed what particular players were most used in all lineups submitted to the site's Millionaire Maker contests. Usually, that data is not released until the lineups for all games are finalized. Getting it early, however, is of great advantage to make tactical decisions, especially when your opponents do not have the information at all.
These two sites have come under a fair amount of fire for their lack of regulation. Daily fantasy sports are notoriously lax when it comes to, well, everything. So much so that they are being investigated by Congress, which is looking into the legality of the organizations. While a DraftKings spokesperson said that this was simply an accident – according to the Times, "the company was certain that he did not use the information improperly" – Chris Grove of legalsportsreport.com believes that this is a major moment in the way that daily fantasy sports are regulated.
"You have information that is valuable and should be tightly restricted," said Grove. "There are people outside of the company that place value on that information. Is there any internal controls? Any audit process? The inability of the industry to produce and clear and compelling answer to these questions to anyone's satisfaction is why it needs to be regulated."
Odds are daily fantasy sports aren't going anywhere barring the federal government stepping in and shutting them down. Still, it's certainly a terrible look if employees are able to take insider information, go to other websites, and make hundreds of thousands of dollars, especially when it has become exceedingly difficult for people to win.
(via New York Times)