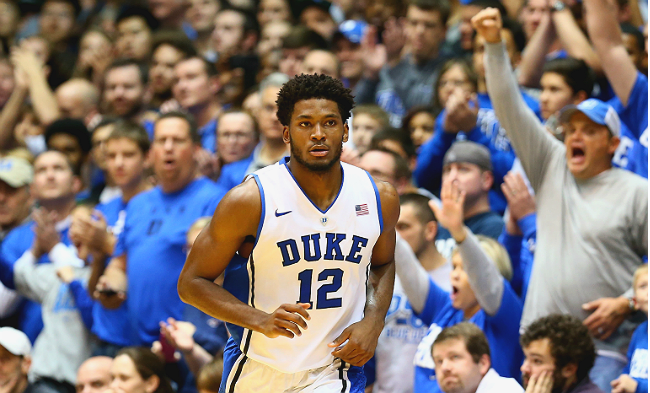 CHARLOTTE, N.C. – Early in the second half of Duke's opening round game against Robert Morris, everyone stared mouth agape as Blue Devils center – and coveted NBA Draft prospect – Jahlil Okafor missed a dunk. Coach K was livid. The crowd, and the Internet at large, chuckled. And the South region's No. 1 seed still won handily, 85-56, to move into the Round of 32.
It's what happened at the other end of the floor that should have NBA fans drooling. How did Okafor have an open break in the first place to miss his reverse dunk? The answer is Justise Winslow, the Duke freshman who just might be the most intriguing pro prospect on a team full of talent.
Robert Morris seemed to have an easy layup off a great feed, but Winslow trailed and rotated over, and in a flash he had smothered the ball, trapped it against the glass, grabbed it himself, and started the break.
This wasn't just an athletic play; it was incredibly smart, and nine times out of 10 it would've led to instant offense had Okafor decided not to get too fancy with it.
"It's heart and hustle," Winslow said after the game. "That's how you gotta describe it. You've got to want it more than the offensive player, so when you do get those type of blocks, it really gives your team a lot of energy. It's a big time play. Those chasedown blocks are something special."
Winslow's basketball IQ is sky high, and his commitment to defense as a college freshman is something you don't often see. He doesn't just block the ball into the stands or use too much of his body, he avoids fouling and keeps the ball in play to give his team a transition opportunity. This is a guy who is fully aware of where he and his teammates are on the floor, and he has great awareness and instincts.
During the broadcast in Sunday's game against San Diego State, CBS analyst Grant Hill said, "With all due respect to Shane Battier, Justise Winslow might be the best Duke defender of all-time." That's high praise from any analyst, but it's even more jarring coming from a former Blue Devil like Hill.
As hyperbolic as that sounds, It wasn't completely out of line, although if Hill had more time to choose his words carefully, he could have altered his statement to "if Justise Winslow stays at Duke, he might be the best Duke defender of all-time." That's the talent level – and versatility – Winslow has.
Depending on which college team you throw out there, Winslow can conceivably defend any position on the floor, and with Mike Krzyzewski running varied lineups (and defenses) all year, Winslow is the perfect person to use as a regular KitchenAid mixer (complete with every possible attachment).
Your eye can't help but be drawn to him when he's making big plays, but it's very easy for him to seamlessly blend into the rest of the shiny appliances on the counter when he's not plugged in.
"He's definitely unique," freshman Tyus Jones said in the locker room on Friday, "but he's still improving in a different number of areas in his game. He's an athlete kind of like DeMar DeRozan, I'd say. He can play defense. His jumper's improving, but then he's a lefty so that throws a twist on things. He slashes. He likes James Harden a lot, so he watches him and how he tries to draw fouls and stuff like that. There's not one person I would compare him to. He has to be a mixture."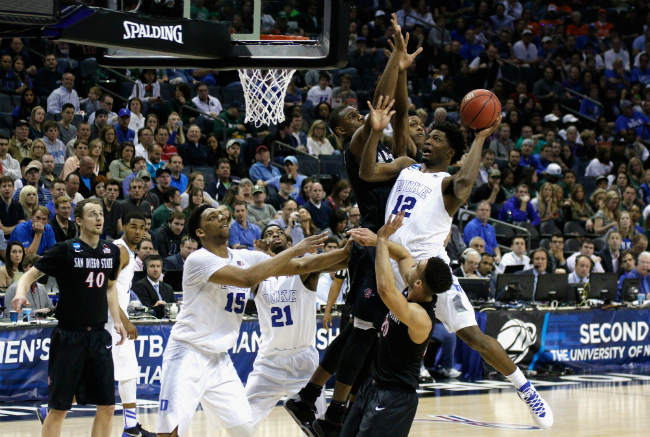 Sam Vecenie of CBS Sports, who has monitored Winslow all year long and currently has him pegged in the pick 7 to 11 range if he were to come out in the 2015 NBA Draft, sees a different comparison to a current player in the league: Andre Iguodala.
"The best way for him to make an impact early is purely through his athleticism and energy levels," Vecenie told UPROXX Sports. "He always plays 100 percent, and my guess is that a coach will fall in love with that and play him early. The motor on both ends never quits, even if the skills (change of direction ball-handling especially) aren't totally there yet. Teams will look at him as something of an elite role player with his skillset, and that's exactly how he fits in on this [Duke] team."
It's easy to think Winslow's having a quiet game as he gets overshadowed by Quinn Cook or Jones hitting a bunch of threes, or Okafor piling up points with ease using his encyclopedia of post moves, but a funny thing happens. When the game's over, as you run through the box score, Winslow somehow has a stuffed stat sheet.
There was no better example of this than against San Diego State on Sunday. Okafor positively dominated, going 12-of-16 from the floor for 26 points, but right beneath him was Winslow with 13 points, 12 rebounds, five assists, four steals and three blocks.
Following the game, Coach K was asked about what a game like that out of Winslow does for the rest of the team. "It just takes us to a whole other level," Krzyzewski responded.
That's probably why it's been so hard to pin down exactly what type of player Winslow is going to be at the next level. For starters, he's still raw. His jump shot is evolving. He's becoming a better passer, and a better player in the half court. But his defense is already where it needs to be, and in the open floor – often following one of those nasty blocks – his explosiveness is downright frightening.
"He's very tough to guard in transition," Blue Devils center Marshall Plumlee said after the win over the Aztecs. "I know first hand from practice. He's like a freight train. Those blocks do something special for our team. They're not an anomaly because he keeps on getting them again and again, game after game. He has a special kind of athleticism and something that can really spark us when we need it best."
When Duke played San Diego State, Winslow had a couple more blocks very similar to the one he had against Robert Morris. There'd be no botched dunks this time around.
On one, Jones eventually kicked it out to Quinn Cook for a wide-open three. On the other, Winslow didn't even have to run down to the other end of the court. He just stood there holding his hands up like Duke had just scored a field goal as his teammates sprinted out to an easy layup.
It was as if Winslow knew his effort would pay off on that possession, and he looked almost relieved that he could turn defense into offense.
"It's like a backbreaker," Duke forward Amile Jefferson said on Sunday. "For us, it just lifts our team and gives us a confidence because when you see someone making plays like that, you have to play harder for him. It's contagious."
Duke's hoping that mindset continues to spread as it looks to make a deep tournament run. Chances are, if that's the case, there are going to be a few more Vines out there of Winslow doing his thing.