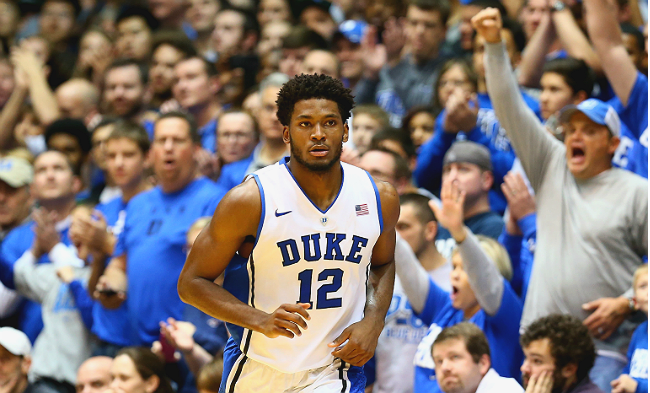 CHARLOTTE, N.C. – Early in the second half of Duke's opening round game against Robert Morris, everyone stared mouth agape as Blue Devils center – and coveted NBA Draft prospect – Jahlil Okafor missed a dunk. Coach K was livid. The crowd, and the Internet at large, chuckled. And the South region's No. 1 seed still won handily, 85-56, to move into the Round of 32.
It's what happened at the other end of the floor that should have NBA fans drooling. How did Okafor have an open break in the first place to miss his reverse dunk? The answer is Justise Winslow, the Duke freshman who just might be the most intriguing pro prospect on a team full of talent.
Robert Morris seemed to have an easy layup off a great feed, but Winslow trailed and rotated over, and in a flash he had smothered the ball, trapped it against the glass, grabbed it himself, and started the break.
This wasn't just an athletic play; it was incredibly smart, and nine times out of 10 it would've led to instant offense had Okafor decided not to get too fancy with it.
"It's heart and hustle," Winslow said after the game. "That's how you gotta describe it. You've got to want it more than the offensive player, so when you do get those type of blocks, it really gives your team a lot of energy. It's a big time play. Those chasedown blocks are something special."
Winslow's basketball IQ is sky high, and his commitment to defense as a college freshman is something you don't often see. He doesn't just block the ball into the stands or use too much of his body, he avoids fouling and keeps the ball in play to give his team a transition opportunity. This is a guy who is fully aware of where he and his teammates are on the floor, and he has great awareness and instincts.